ECCMID
Scientists gather to fight infectious diseases
The European Society of Clinical Microbiology and Infectious Disease (ESCMID) announces that the globe's most prominent infection specialists will be gathering in Copenhagen to explore solutions to the biggest infection problems during its annual congress – the 25th European Congress of Clinical Microbiology and Infectious Diseases (ECCMID) taking place on 25-28 April 2015.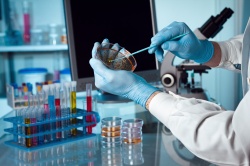 For a more than a quarter of a century infection specialists have gathered at ECCMID to acquire the latest scientific news in their field, exchange ideas and network with colleagues from all parts of the world. The congress uses a multidisciplinary approach to examining the world's most pressing infection problems, innovations, drug targets, viable solutions and best practices. These findings, which have informed policy and practice across Europe, vastly improve diagnosis, prevention and treatment, and provide a vital platform for promoting the latest research and training.
At this year's annual congress, specialists from all disciplines in the fields of microbiology and infection, will be discussing the latest developments in the fight against infectious diseases and antibiotic resistance, including Ebola and multi-drug resistant TB to name a few.
As one of the world's largest conferences on clinical microbiology and infectious diseases, ECCMID offers microbiologists and clinicians an invaluable opportunity to share their most recent research. The global challenges and hazards threatening European citizens will be addressed in some 150 keynote lectures, oral sessions, educational workshops, symposia and approximately 2,500 poster presentations.
For antibiotic resistance, delegates will be able to hear about: the drug pipeline for Gram-negative and Gram-positive bacteria, including those in Phase II and III clinical trials; the plans to resurrect old antimicrobial agents; and the challenges associated with successfully developing new therapeutic agents. Responsible use of antibiotics will come under the spotlight by means of a comparison between the practices in countries with low and high incidences of resistance. New drugs and strategies are vital as the world battles against the emerging trend for multi-resistance, but it is hampered by a diminishing number of effective therapeutic options. Finally, EUCAST (European Committee on Antimicrobial Susceptibility Testing) – a standing committee jointly organized by ESCMID, the ECDC and European national breakpoint committees – will provide a Europe-wide update on breakpoints and methods for new agents. ECCMID will identify key trends and techniques vital in the diagnosis, management and prevention of infectious diseases.
Across global diseases, there are sessions on: what lessons can be learned from the outbreak of Ebola that will help future preventive strategies; progress towards the eradication of both TB and malaria; and a look at advances in the provision of low-cost anti-retrovirals for HIV/AIDS.
Additionally, the importance of infection control when dealing with respiratory viruses will be covered, with specific reference to Middle East Respiratory Syndrome (MERS). Already, this has infected 50 people in Saudi Arabia so far this month, and the World Health Organization has warned that too little is being done to control its spread. There have been at least 1,026 recorded infections and 376 deaths since 2012.
In the pro-con debate on pneumococcal conjugate vaccines we expect a vibrant discussion of the advantages and disadvantages of adult vaccination. Best practices and clinical guidelines will be covered in sessions reviewing (i) intensive care management for severely ill travellers (ii) antibiotics use to soothe intensivists' minds and (iii) recent findings in diagnosis and treatment of severe sepsis.
Finally, across clinical microbiology, speakers will highlight hot topics in culture-based, PCR-based and rapid diagnostics and the current and future challenges in forensic microbiology. Participants will also get updates on whole genome sequencing, on the detection and screening for resistant bacteria, the integration of molecular platforms into the laboratory and the use of digital imaging.
Murat Akova, ESCMID President, commented: "For over 32 years the scientific community has met at ECCMID; the recommendations, advice, knowledge sharing and best practices that emerge from this congress each year have a tremendous impact across Europe and not only help raise awareness, but improve the diagnosis, prevention and clinical care given to patients. With problems like antibiotic resistance, Ebola and others still presenting a huge risk to citizens, it is vitally important that microbiologists, infection control specialists, clinicians and healthcare professionals attend this event so that we can proliferate knowledge to prevent deaths and the spread of infectious disease."
Winfried Kern, ECCMID Programme Director, commented: "We have done our best to offer you a lively, interactive programme that includes debates and controversy as well as top science and professional education on both diagnostic and management issues. We love to attract young researchers and clinical scientists and will provide a platform and culture for them during the congress as well as ample opportunities to meet fellows and seniors. We have developed and introduced some new session features and formats, and we are convinced that you will rate this year´s industry exhibition as extraordinary in getting to know modern techniques and products essential for infectious disease specialists and microbiologists."
For a full programme of seminars and sessions at ECCMID 2015, please have a loot at the file attached.
For more informatione please visit www.eccmid.org.
Source: defacto healthy reputations