SCAR is now SIIM
Cynthia Keen reports from the USA
The Society for Computer Applications in Radiology (SCAR) has undergone a name change. SCAR is now the Society for Imaging Informatics in Medicine (SIIM).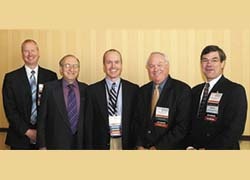 Established in 1980 to promote the use of computers to develop new diagnostic imaging technologies, SCAR was the first radiology society to publicise research and applications for PACS, and has been the professional organisation most associated with the digital transformation of radiology departments in North America.

The Society's books and peer-review publication, the Journal of Digital Imaging, and its Expert Hotline archives at www.scarnet.org provide a wealth of scientific and pragmatic information about PACS and related digital technologies.

The name change emphasises the Society's expanded focus on encompassing other clinical specialties beyond radiology - supporting research in imaging informatics, including all imaging sciences, and the expansion of medical imaging throughout healthcare.
At this year's annual meeting SCAR/SIIM formally initiated an international Imaging Informatics Professional Certification Programme, designed to define the standards for PACS administrators. The first examination is scheduled for September 2007.

Delivering the keynote address, titled 'Leonardo's Laptop: Next Generation Users Interface for Medical Informatics', Ben Shneiderman PhD, Founding Director of the Human-Computer Interaction Laboratory and Professor of Computer Science of the University of Maryland (Baltimore), demonstrated his models for managing and displaying a vast amount of data.

In the R&D symposium, Katherine Andriole PhD, of Brigham & Women's Hospital (Boston, MA), discussed current medical imaging informatics research opportunities. Both presentations referenced the Transforming the Radiological Interpretation Process(TRIP) initiative, a multidisciplinary research effort initiated by SCAR in 2002 to address the problem of image and information overload generated by high volume diagnostic modalities like CT and MRI. (For podcasts go to: www.scarnet.org/presentations.html).

Workstation design - David Weiss MD, of Geisinger Health System (Danville, PA) and Steven Horii MD, of the University of Pennsylvania Health System (Philadelphia, PA), discussed future workstation requirements.

Dr. Horii described current design limitations of display, correlation, and performing image processing of 2D-3D-4D radiology, cardiology, orthopaedic and other types of diagnostic images and requirements for improved workflow through fluid integration.

Dr Weiss predicted that entirely new digital viewing techniques are needed to provide efficient review of the large data sets generated by the latest CT and MRI equipment. The ideal, he said, would be to show a virtual image that could be 'peeled away' to display the underlying anatomy.

Network analysis - Sergio Camorlinga PhD, of St Boniface Hospital Research Centre (Winnipeg, Manitoba, Canada) described the use of a distributed network of modality simulators to produce graphs that display how networks respond to different levels of traffic. The graphs can verify if transfer times for image data are within the tolerance parameters for a hospital, and identify the best performance for PACS under different sets of load levels.

New workflow worklist engine - The University of Texas M. D. Anderson Cancer Centre (Houston) created a new kind of worklist engine modelled on the concept of stock market displays of current market conditions, which, Kevin McEnery MD explained, provides greater flexibility and efficiency.

Archive storage - The challenge of the management of large databases of patients will continue because storage requirements steadily increase. Today, image accessibility is age-based. Richard Morin PhD, of Mayo Clinic-Jacksonville (Florida) and current chairman of SIIM, recommends that older images be stored on-line, based on the likelihood of future review rather than their age. Paediatric, cardiac, mammographic and radiation oncology images should be more rapidly accessible than daily chest X-rays verifying tube placement, which have no value after a patient is discharged, and could be immediately moved in highly compressed format to a long-term archive.

SCAR06 drew an international attendance of 1,275 registrants and 150 exhibiting companies. In June 2007 the meeting will be held in Providence, Rhode Island. Proposal abstracts will be accepted until 11/09/06. Global submissions are strongly encouraged.