Article • Overcoming barriers
Scaling the barriers to precise diagnoses
Whilst digital pathology has the potential to deliver more precise diagnostics, there remain a number of barriers to its widespread implementation.
Report: Mark Nicholls
Cost, as with any new technology, remains an issue particularly against the backdrop of financial constraints experienced within, for example, the UK's National Health Service (NHS). Doubts remain over whether digital methods are as good as traditional ones and there are also IT challenges in sharing data across national and international boundaries.
One of the UK's leading digital pathology experts, Dr David Snead, focused on these challenges when he addressed the international Global Engage 2nd Digital Pathology Congress in London (3-7 December 2015). In his presentation, Overcoming Barriers in Adoption of Digital Pathology, the consultant outlined the challenges, opportunities and potential that digital pathology offers for a new era of diagnostics and healthcare.
As Consultant Cellular Pathologist with University Hospitals Coventry & Warwick (UHCW) NHS Trust, Snead believes research, conducted by his team and others, is demonstrating that digital pathology is as good as traditional methods. 'We've answered these doubts with our validation study where we demonstrated that we can do 90% of the job on a digital platform that you can with a microscope.'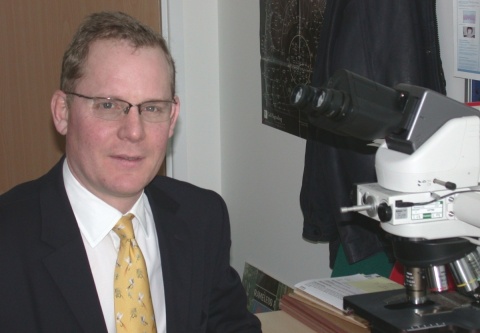 Cost remains an issue, but indications are that, as more manufacturers enter the market over the next 4-5 years, competition will drive down price and see greater implementation of digital pathology systems. An issue, particularly facing the NHS, is that of sharing data with regulations and a lack of clarity, agreements and protocols on data sharing rules, security and confidentiality, he suggested.
What remains clear to Snead, who also heads the UHCW Centre of Excellence for Digital Pathology, is the potential of the technique. 'It's clear to me as a pathologist that digital pathology offers an increase in quality which we do not have yet,' he said. 'But, within a couple of years, authorities will accept there is a need to acquire and pay for this increase in quality that it offers.'
The Coventry centre, as an early adopter of digital pathology, is championing the case within the UK and with support and funding from the trust management is 'geared to providing pathologists with the tools they need to make digital pathology work for them'.
Snead: 'These will be tools which grade cancer more accurately and grade intensity staining in biomarkers in an entirely quantitative, reproducible and robust way, which we cannot do at present. What is done by the pathologist's eye and judgement at the moment is not good enough for today's treatment. Breast cancers are still being reported with varying degrees of their grade and patients require much more robust analysis, particularly in cancer treatment of the tumours they have. That's what excites us about digital pathology, about really improving pathology because we can now measure things we could not measure before.'
Everybody will be using this technology in 10 years because they will have to

David Snead
The Centre of Excellence has seven PhD students, two post docs and a computer scientist, working on digital pathology algorithms with the trust's partner, the University of Warwick. 'In the next five years we will see those algorithms in the lab, Snead predicts, 'delivering better assessments of pathology slides than we get at the moment and, I think, when we get to that point will be when digital pathology is really going to take off.' He recognises that, in Europe, health systems are not necessarily facing similar issues as the NHS, in part due to the different configuration of healthcare in comparison with that of the UK. Sweden, Spain and Holland are making strong progress as individual hospitals, institutions and heath organisations introduce their own initiatives.
However, Snead is confident that digital pathology will overcome barriers against its implementation. 'Everybody will be using this technology in 10 years because they will have to,' he said. 'There will not be any other way of doing it.'
Profile:
Dr David Snead is Consultant Cellular Pathologist with University Hospitals Coventry & Warwick NHS Trust and Director of the Digital Pathology Centre of Excellence. His main research interests are digital pathology as applied to routine diagnostic histopathology and lung cancer research.