Royal Philips Electronics leads Sonodrugs Project
Philips leads the €15.9 million project to develop image-guided localized drug delivery technologies that could significantly impact the treatment of cancer and cardiovascular disease. The goal is to maximize therapeutic efficiency and minimize side effects of treatments for cancer and cardiovascular disease. The hope is that this level of control will also provide a means of tailoring the therapy to individual patients.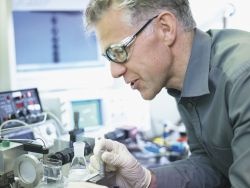 By allowing drugs to be delivered to disease sites via the patient's bloodstream and then activated by focused ultrasound pulses, the SonoDrugs project aims to maximize the therapeutic efficiency and minimize the side effects of drug treatments for cancer and cardiovascular disease. The project, which involves a total of fifteen industrial partners, university medical centers and academic institutions from throughout the European Union (EU), will run for four years and has a budget of €15.9 million, €10.9 million of which is being funded under the EU's 7th Framework program.
The SonoDrugs consortium consists of the industrial partners Philips (The Netherlands, Germany and Finland), Nanobiotix (France) and Lipoid (Germany); the university medical centers Erasmus Medical Center (The Netherlands) and Universitäts Klinikum Münster (Germany); and the academic institutions University of Cyprus (Cyprus), University of Gent (Belgium), University of Helsinki (Finland), University of London (United Kingdom), University of Tours (France), University Victor Segalen Bordeaux (France), University of Technology Eindhoven (The Netherlands) and the University of Udine (Italy).
In attempting to realize its objective, the SonoDrugs project will take a two-pronged approach: the first is based on magnetic resonance imaging (MRI) guidance and the second is based on ultrasound guidance. The project's research on MRI-guided drug delivery will largely be targeted at potential treatments for cancer. The SonoDrugs project aims to develop MRI techniques to simultaneously image the patient's anatomy, detect the arrival of MRI-labeled drug-loaded particles at the disease site, measure the local heating effect of the ultrasound pulses, and monitor the temperature triggered release of drugs from the particles.
For potential applications in the treatment of cardiovascular disease, the project will focus on the use of ultrasound as the primary imaging modality as well as the means of releasing drugs from pressure sensitive microbubbles. Philips Research is at the forefront of research into the drug delivery potential of microbubbles by adapting existing microbubble technology so that microbubbles can deliver precise doses of drugs exactly where they might be needed in the body.
More on the subject:
More on companies: