Roche and google.org start initiative for early discovery of new diseases
Roche Applied Science and Google.org recently started a joint project to demonstrate the feasibility of developing a multidisciplinary surveillance, research and response system. This system will enhance the ability to predict and prevent emerging infectious diseases in East Africa. The East African region is known as one of the major hot beds for emergence of new infectious viral agents and new strains of known viruses.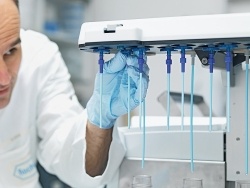 Roche has donated a Genome Sequencer FLX system as backbone of this project. "We are proud to work with Google.org, and the dedicated research organizations in Kenya to bring this technology to a region of the world where novel viruses frequently emerge. We are confident that access to the 454 Sequencing Systems will improve monitoring of novel infectious diseases and enable faster discovery in case of an outbreak," said Chris McLeod, CEO of 454 Life Sciences, a member of the Roche Group.

The project will focus primarily on arboviruses (arthropod-borne viruses), a large group of viruses which frequently cause emergent disease and are transmitted by blood-sucking insects and their arthropod cousins, such as ticks. The first disease the project will tackle is Rift Valley Fever (RVF), a lethal disease of livestock and people caused by an arbovirus spread by mosquito vectors. The initiative will:
- Survey human, livestock, wildlife and vector populations to monitor the circulation transmission and maintenance of arboviruses within them, with a focus on RVF virus
- Employ state of the art genomics and knowledge management systems to advance understanding of the dynamics and diversity of disease-causing agents, their vectors and hosts and
- Link this wealth of new information to existing risk information and decision support tools to provide early warning of disease outbreaks and enable rapid responses to control them.
Google.org, the philanthropic arm of Google.com, provided a US$5-million grant to icipe (International Centre of Insect Physiology and Ecology) and partners late last year to enhance insect-carried disease discovery and surveillance of East Africa. In Nairobi, icipe, ILRI (International Livestock Research Institute), Kenya's national organizations for health (Ministry of Health, Ministry of Public Health and Kenya Medical Research Institute), livestock (Department of Veterinary Services and Kenya Agricultural Research Institute) and wildlife (Kenya Wildlife Services) have been chosen to participate in the project.
"We will be fortunate to have a GS FLX instrument initially donated to support the Arbovirus infection surveillance in Kenya, with plans to subsequently train and bring on board other research partners in East Africa. The region has experienced large epidemics of arboviral diseases, such as Rift Valley Fever, Dengue and Yellow Fever just to mention a few. Surveillance to monitor circulation of such agents is critical in informing public health decision for early warning and response," says Christian Borgemeister, Director General of icipe.
Rosemary C. Sang, research scientist, added: "This new technology will play a very important role in promoting the capacity of surveillance and research groups in East Africa, to leap over constraints of currently available technologies and be able to discover infectious agents circulating unrecognized in our environment and monitor the evolutionary trends in the viral pathogens in order to remain current with the diagnostics and management options."
Emerging infectious diseases are a significant burden to our global economies and public health systems. Approximately 70% of emerging diseases are zoonotic, meaning that they are transmissible between humans and animals. Through the study of insects, icipe works to improve food production, human, animal, environmental health and natural resource conservation. In addition, it captures indigenous expertise, builds and strengthens local capacity. icipe conducts research and develops methods for pest control that are selective, non-polluting and not susceptible to resistance. The aim is to develop affordable, sustainable and conservation oriented solutions.
The Roche Genome Sequencer platform will be established within the Nairobi laboratories of ILRI and a regional joint venture called Biosciences Eastern and Central Africa (BecA). The ILRI-BecA Hub provides a biosciences research and bioinformatics platform linked to a network of laboratories distributed throughout Eastern and Central Africa, serving a new generation of African scientists.
The high-performance 454 Sequencing System has proven a powerful pathogen discovery tool in a series of recent novel virus outbreaks. In late 2008, for example, the system was used to discover a new zoonotic arena virus responsible for a highly fatal hemorrhagic fever outbreak in South Africa. Earlier that year, as reported in the New England Journal of Medicine, the system was used to identify a previously undetected virus responsible for the death of three transplant recipients in Australia.
More on the subject:
More on companies: