Process Management and Radiology
Taming of the Queue - The MRI Lean Process Improvement Initiative
Increasingly, hospitals have to find ways to optimise the capacity, efficiency and utilization of their MRI services. David Wormald, Integrated Assistant Vice President for Diagnostic Services at Hamilton Health Sciences & St. Joseph's Healthcare, Hamilton, Canada, knows this problem in and out – and a few solutions on top of it.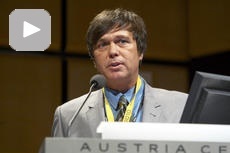 As a member of the CT/MRI expert panel, which advises on short and long-term strategies to improve access and reduce waiting times for key services under Ontario's Wait Time Strategy and Cancer Care Ontario, he shared his experiences with the MRI Lean Process Improvement Initiative.
'The high demand for MRI services in Ontario has resulted in long wait times for patients," Wormald described one core problem. The waiting times for elective MRI vary across Hamilton Health Sciences campuses and often exceed the provincial target of 28 days. "We identified the wait time performance as a barrier to provide patients with timely access to diagnostic care and treatment. Gaining efficiency in MRI departments is one way to address this issue and improve patient access to care."
The core team (DI managers, MRI technologists, radiologists, decision/finance support, and PACS/RIS administrators, RN resource, booking/clerical resources, porters and IT) began with an initial on-site assessment (observation and interviews). The initial diagnostic component of the project was Value Stream Mapping, for which the team collaboratively mapped out the current MRI process, identified areas of opportunity and developed a comprehensive action plan of improvement initiatives, including the project dashboard and process level metrics.
The resulting action plan included two targeted Rapid Improvement Events (RIE) to develop, test and implement solutions. These were presented at the symposium, as well as the methods used to measure improvement and the effects of changes. Benefits included: standardisation of work across campuses ( booking processes), increased capacity (additional slots/week) by 15%, decreased booking turnaround time from 27 to 2 days, implement centralised booking model (call centre), decreased no show rate from 8% to 3%.
According to Wormald, Ontario will now translate the knowledge of lean process improvements to their CT systems. What did his team learn for this future project? "Communicate early and often. There is no good time. However, avoid summer months with staff on vacation. Ensure organisational readiness to support and commit to initiative," Wormald recommended. "There are four lean solutions: streamline the flow, have tight connections, guarantee transparency and standardize work, that is consistent practices around process steps, timing, etc.
And the take-home message? "Early involvement and planning are critical. Always consider WIFM ("What's in it for me?") and ensure radiologist engagement."
With a passion for lean process improvement and quality management, Wormald is currently a coach with the Provincial MRI coaching team. He is also a surveyor for the not-for-profit organisation Accreditation Canada, providing national and international healthcare organisations with an external peer review process to assess and improve their services to their patients and clients based on standards of excellence.