Private medicine
A Russian evolution
Olga Ostrovskaya reports on the first
St Petersburg medical forum Private medicine in Russia: Problems and ways of evolution, which took place in June. Organised by various medical associations, the main goal was to exchange experiences in private medicine and shape proposals to create a productive state policy in this sphere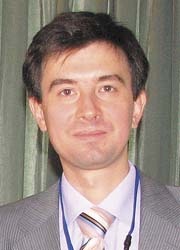 The development of private medicine in Russia has reached a new level, according to Sergej Anoufriev, CEO of the St Petersburg Association of Clinics (set up by 13 private clinics two years ago). Private clinics have become a real part of the Russian healthcare system and people increasingly choose private medical services. However, the state and private organisations solve the same problems differently. Thus we must seek and find common ground for the sake of our patients. The Forum was the important step on this road because the state officials, public agents and the private clinics leaders worked together over the three-day event.
Today, in Russia, no one doubts that healthcare will be more qualitative and more effective when private clinics and centres gain state support, and partnership will become the main principle of the relationship between state and private medicine.
Russia has twice the number of hospitals than the European Union. However, about 50% of these cannot provide patients with modern, quality treatment. At the same time, the illegal medical market turns over about US$15 billion annually – i.e. money paid by patients straight into doctors' pockets.
50% of Russians never go to a state hospital – and those are the most actively employed. They pay taxes for state healthcare, yet often seek private treatment.
St Petersburg has about five thousand out- and in-patient hospitals; only about 10% of medical services are provided by private centres. Experts, however, talk about the arrival of several new, big private clinics in the near future.
Generally, private clinics are set up by the most active physicians, Sergej Anoufriev pointed out. They need about US$50,000 to 100,000 to fund a private centre. Today, however, the 'ticket' to a medical business is worth between US$500,000 to 900,000. It's serious business, which needs necessary and serious investments.
The Forum's participants signed a document stating that healthcare system reform will be more successful and more effective if private clinics are included in state healthcare programmes.