Article • Improving efficiency
Pixel perfect surgical displays
Given the aim to provide 'affordable care', the economical organisation of operating theatres is critical. Surgical procedures also contribute as much as 60-70% of hospital revenues. Thus surgical efficiency and flexibility are paramount in surgical departments.
However, the huge amount of medical devices combined with constantly evolving imaging technologies can make changes between different surgical procedures and preferences time-consuming and possibly risky. Healthcare imaging specialist Barco has developed a surgical solutions portfolio to enable more efficient and effective use of an operating room.
Safe image-guided surgery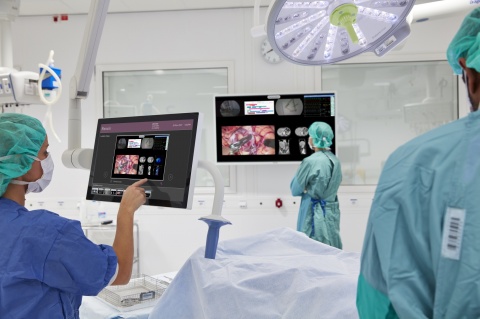 Barco reports that it's 'surgical solutions work seamlessly together to provide precise images to any integrated, hybrid or interventional operating room. The wide range of surgical displays, combined with Nexxis for advanced video integration, fuels the quick adoption and pixel-perfect representation of current and new imaging technologies. So surgical staff can concentrate on patient care instead of spending critical time on fiddling with screens and devices.
'This is quite crucial because, in image-guided surgery, the displays are the eyes of the surgeon. Barco's Full HD and 4K surgical displays provide the right depth and colour perception to offer the best visual guidance for surgeons. Every image is calibrated, rendered quickly, and displayed precisely, for perfect hand-eye coordination. In addition, a unique automated failover feature guarantees a backup signal at all times to ensure safe surgery.'
Maximum use of the operating room
'Though the quality of surgical images may be impeccable, smooth display of those images during image-guided surgery can be problematic,' Barco points out. 'In fact, it's considered one of the biggest challenges by OR staff (according to a MarkeTechGroup 2016 survey), which is why Barco developed Nexxis for video integration. It's the most flexible, scalable and reliable solution for managing images and video during surgical procedures.

'Thanks to its intuitive plug and play approach (just plug the source into the system, and Nexxis will display it anywhere inside or outside the operating room), Nexxis enables faster turnarounds in the operating room and increases uptime. Because of the high flexibility of the system, you can keep pace with emerging technologies, so the OR is 100% future-proof. 'In a time when healthcare efficiency is under scrutiny, it's exactly these kind of solutions that will help healthcare professionals do more and perform better, with less.' Barco's complete line of surgical solutions is on show at the fair.
Barco is at Medica 2017
Hall 10. Stand F67.
More on the subject:
More on companies: