Display innovations at ECR include 6 MP
Here comes a new, aesthetic look and feel of display systems, advanced LED technology, and cranked up luminance enhancing image quality: imaging specialists from Barco are taking their displays to the 21st century.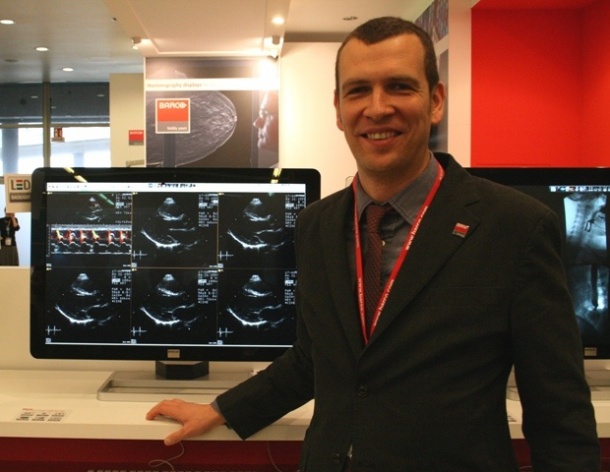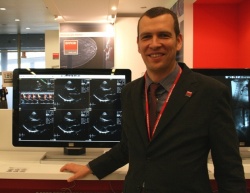 At ECR, product announcements included the Eonis 22" model available in black or white, "with the latter offering a fully cleanable front gorilla glass panel to prevent infection", according to business development manager Jurgen De Backer.
The Coronis Fusion 6 MP DL
A highlight attracting a lot of attention in Vienna was this new display, first shown in Europe at ECR: "It presents images to physicians in a way that will not be achieved by dual-head 3 MP systems", said Bjorn Belpaeme in Vienna. The Coronis Fusion 6 MP DL has been designed to further enhance flexibility and productivity in diagnostic imaging. "Initial results of an ongoing study at the Montefiori Medical Center in New York show that shortened read times and reduced eye strain can be achieved", the product manager went on to explain.
The new 6 MP is very robust and comes with a protective cover. Key features include anti-reflective coating, more luminance emitted – 450 candelas – thanks to edge-lit, energy-saving LED technology, and an optimized viewing angle, e.g. for groups. I-Guard integrated sensor technology measures, triggers, and calibrates luminance correlated with the centre of the screen, conforming with regulations. Control of ambient light and just notable differences (JND) as well as automatic correction depending on the lookup table (ULT), based on the MediCal QAWeb cloud-based tool, are further benefits of the system.
"This new display is brighter and shows more details, and helps physicians by requiring less zooming, panning, and window-levelling", Belpaeme summed up. "It comes with 50 percent more calibrated luminance, 50 percent more guaranteed lifetime, and 25 percent less power consumption, as well as 0 percent mercury – an eco- friendly approach." The price for the product will be announced when it becomes available end of March.
by Michael Reiter
More on the subject:
More on companies: