Article • 4K Technology
At the speed of light
Here is a quick formula for accelerating the time spent reading diagnostic images. If you can see it faster and with greater confidence, you will save time.
Report: John Brosky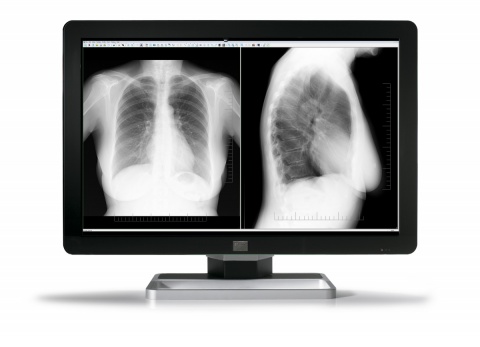 Asking how much time can really be saved is a fair question, and considering the significant investment Barco has put into improving diagnostic displays, the company wanted to know the answer as well: Pumping up brilliance on the Coronis Fusion accelerates productivity for a next generation of diagnostic displays.
'One day a week,' said Bjorn Belpaeme, the manager for Barco's Coronis Fusion portfolio. The evidence comes from a study at the Montefiore Medical Centre, a teaching hospital for the Albert Einstein College of Medicine in New York City that compared a dual three-megapixel (MP) display system with the next-generation Coronis Fusion 6MP display. The result was a time-savings of 19%, and importantly, a significant reduction in eye strain during reading sessions.' Yet adding more pixels is only one link in the complex chain of elements that need to pull together for sustained improvements in productivity, day-in and day-out, he explained.
'Nothing else compares with the new line'
Enhancing display ergonomics needs to take into account things like the screen size, viewing angle, image detail, or light calibration and then there are tools and software a radiologist might use to improve workflow.
Belpaeme said that, by revisiting and re-engineering these elements from the ground up, Barco today is bringing forth a next-generation of the Coronis Fusion line with what he called, 'an unmatched quality that has never been seen, and frankly, there is nothing else in the industry to compare to the new Coronis Fusion.'
While Barco has not yet completed a clinical study to back up his claim, Belpaeme said he could offer one proof that is irrefutable. 'We never get our demos back,' he said, explaining that the Coronis Fusion models Barco sends to medical centres for a trial period don't come back. 'We send out a truck and they send us back a cheque in the mail. They always want to keep the system,' he added.
The stand-out feature of the renewed Coronis Fusion family is a 50% increase in luminance, powered up to 600 candelas compared with the 400 candela brightness that is the industry standard. 'This means more than just more light. It means radiologists can see details more quickly, such as a small fracture in bone or tiny lung nodules, structures that they simply cannot see on a standard display, and this saves a lot of time,' Belpaeme explained.
Barco notes there are 10% more of what radiologists call JNDs, or Just Noticeable Differences, that reveal more subtle details on the Coronis Fusion. The system also offers the highest real estate of any diagnostic display with a generous 30-inch screen, and the new generation now additionally provides the best contrast ratio at 1,500:1 compared to 1,000:1 previously.
Screen size is another vital link in the productivity chain, providing a wide surface to accommodate multimodality imaging and flexible positioning of images on a single screen. According to a recent study by The MarkeTech Group, about 85% of radiologists use three displays or more, which explains why 87% of radiologists complain of physical discomfort, such as back pain, neck strain and eye fatigue when reading images.
Boosting site luminance while dimming the rest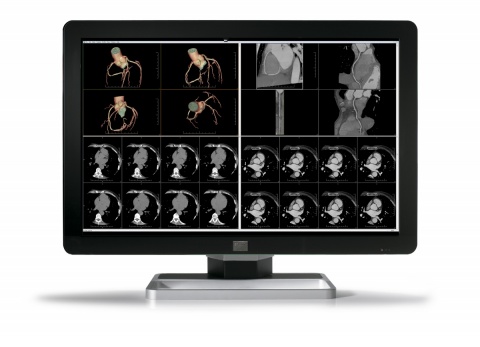 The super screen size and the wide viewing angle of the Coronis Fusion displays helps to reduce head and eye movements as well as minimising image manipulations for a more ergonomic reading experience. Bundled with the next-generation line of Coronis Fusion displays is a tested and proven suite of intelligent tools to help improve viewing control and enhance reading productivity.
Barco's proprietary SpotView technology can boost the luminance in a region of interest while dimming the surrounding image area to provide a sharp focus on selected details more efficiently. Filling out the toolkit are DimView, SmartCursor, Find Cursor, Application Appearance Manager, and VirtualView. Like all of Barco's medical display systems, Coronis Fusion 6MP comes with MediCal QAWeb, a cloud-based technology for automated calibration and Quality Assurance to ensure maximum up-time of the display with no need for human intervention.
More on the subject:
More on companies: