Visualisation
New diagnostic display will redefine readings
Reading radiology exams has become a real pain. According to Piet Candeel, General Manager for Healthcare at visualisation expert Barco, 'Today there are more studies of more patients with more images and typically with fewer people.'

Report: John Brosky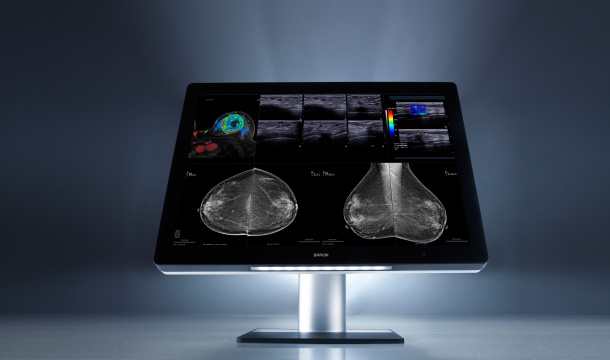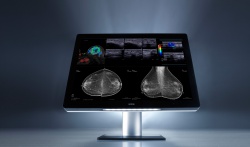 The demand for diagnostic imaging services is increasing; radiologists are tasked with a growing workload and picture archive and communications system (PACS) administrators are struggling with workflow issues, he explained.
The sheer volume and growing complexity of image studies has become so severe that, in a recent survey, these two issues were ranked as the top challenges facing radiologists across Europe and North America, surpassing in importance the changes to reimbursement, which was ranked third.
More than a professional concern, an overwhelming majority of radiologist say they have been personally affected by the crushing demands of work. The survey of 223 radiologists, by independent healthcare research agency The MarkeTech Group, found 85% of them use three different displays to keep up with the diverse range of studies, causing increased head and neck movements. As a result, no fewer than 87% of radiologists responding to the survey said they experience physical discomforts when reading images, including eye fatigue, neck strain, and back pain.
At the heart of the survey was a central question posed by Barco: 'What makes a good read?' Exploring this seemingly simple point allowed the company to tease out the wants and needs of radiologists with an eye to finding a solution to go forward. The first flush of responses showed that the majority of respondents felt that higher image quality, a more efficient workflow, or increased comfort would significantly increase their reading performance.
More specific points emerged. To work more efficiently, 92% of surveyed radiologists suggested faster image loading and manipulation would help. A larger screen surface was favoured by 78 percent and two thirds said the ability to load both colour and greyscale images on one screen would make a significant change in their work.
Barco dug deeper, turning up suggestions for an easy-to-adjust stand from 83% of respondents, an increase to the ambient room lighting among 81%, which was closely followed by reduced screen glare with 71% and an idea for keyboard task lighting that won agreement among 69%.
Far and away the top provider of radiology reading systems with a market share of 70% that translates into 800,000 displays running in hospitals today, Barco is uniquely in a position to address these challenges, said Lynda Domogalla, vice president of product marketing for the company's healthcare division.
The response is Coronis Uniti, a diagnostic display system that is poised to revolutionise work and workflow for radiologists, she said. 'This will change the way radiologists work in the reading room. It's about bringing it all together, eliminating any need for a radiologist to move to another screen.
'Coronis Uniti is a single display for any type of image, whether 2-D or 3-D, colour or greyscale, static as well as dynamic images. It will display not only every type of image being seen today, but is designed to manage and display the next wave of images that's coming, especially with colour.'
Barco engineers simplified and standardised the image reading technology platform making it easier to manage and control an entire display network, she explained. The 12 million pixel display optimises the reading experience by mirroring a human's natural field of vision, according to Barco's Senior Product Manager, Albert Xthona.
Tightly designed, pixel level technology within the screen itself minimises the need for head and eye movements. Thanks to an innovative multi-touch pad, radiologists have an intuitive, rapid control for managing images and views are at their fingertips. Optical Glass technology is incorporated into the display to reduce reflections and enhance image sharpness for greater viewing comfort.
Using SoftGlow, radiologists can control the ambient light in room, while the built-in Ambient Light Compensation ensures that Coronis Uniti image quality remains flawless, in any lighting environment.
The brilliance and beauty of the new Coronis Uniti display screen masks the complexity built into a workstation, which is a workhorse for shared services in radiology reading. The massive 33-inch screen also serves as a virtual light box where radiologists can clip a patient's archived film images alongside freshly acquired digital images.
'What's really new here is an industry first in SteadyColour, a calibration technology that meets DICOM standard for greyscales while also guaranteeing consistent, perceptually linear colour,' said Xthona.
Coronis Uniti features a next generation of the widely popular Barco I-Guard technology. Adding an embedded optical precision colorimeter, positioned at the front of the screen, the new Colour I-Guard captures precisely what the radiologist is seeing, continuously monitoring fine gradations of colours spread over the display and communicating its readings to the controlling electronics, which make corrective actions to the screen in real time.
Xthona rapidly ticks off a series of novel features on board Coronis Uniti, eight to enhance image quality, six that address productivity issues and six that improve ergonomics. Xthona highlighted RapidFrame technology that ensures crisp and in-focus display of moving images and SpotView that focuses light for greater detail in a viewed image.
'Coronis Uniti is the leading edge of Barco innovation.' said Healthcare General Manager Candeel, who cites a long history of industry firsts. 'We have turned our experience and talents to addressing the many challenges that have emerged for healthcare organisations and we put it all together in a single system that can reduce display cost, real estate, and operational expenditure.
'We also remain the only company that offers a five-year warranty on our display equipment,' he added. 'That's how sure we are about the quality of what we deliver.'
More on the subject:
More on companies: