Merging
Photo Research merges with JADAK
Photo Research (PR) has merged with its Novanta sister company JADAK, a manufacturer of machine vision, radio-frequency identification (RFID) and bar code products for the health care and life science industries. Photo Research is a leader in world-class light and color measurement solutions serving the flat panel display, automotive, aerospace and related industries.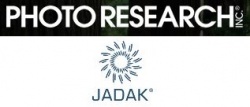 Effective June 13, Photo Research has relocated its production, service, calibration and customer service operations from Chatsworth, California, to JADAK headquarters in Syracuse, New York. With PR becoming a part of JADAK, it allows JADAK to expand its offerings to include a new line of spectroscopy products measuring spectral response from reagents and biopsies to other materials for JADAK's traditional original equipment manufacturer (OEM) medical device customers. It also means there will be a strengthened investment in product innovation for PR customers.
"PR has been a worldwide, trusted brand for more than 70 years, and the company will only be enhanced by joining forces with JADAK," said Janie Goddard, president of JADAK. "By combining to create what we call the 'Vision Technology Center of Excellence,' we will be able to leverage a large and diverse set of engineering and technology expertise across our various product lines to bring new, innovative solutions to our customers."
"The move to Upstate New York provides our team with the opportunity to capitalize on the larger operational and engineering resources available within the JADAK family to continue to push the company forward and offer new solutions while still retaining our name and history," said Bill Polinsky, managing director of Photo Research. "We're excited to offer our customers improved levels of product quality, value and customer service, and continued performance improvements at an accelerated rate."
JADAK is ISO 9001 and ISO 13485 registered. JADAK quality auditors have validated and documented every PR instrument, function, key processes and procedures, ensuring that the PR operation is mirrored in its new facility in Syracuse. PR contacts for production, service, calibration and customer service will become Syracuse-based team members. PR's research and design engineering and sales teams will remain in California.
As the first of many new innovations to come from the merger, PR announced its newest product, the Tru-Image 2D Imager. The imager offers high resolution (8 megapixels), high speed (color measurements as fast as 3.5 seconds) and high sensitivity (0.005 cd/m2). It has the ability to simultaneously measure several locations of a display, avionic panel or keypad. It speeds up tedious measurements by automatically finding characters within the entire image or defined fields and then calculating the average luminance of only the illuminated characters of interest. There is no need to make an individual measurement of each character.
PR has three main product lines:
Offers the only truly portable, battery-operated spectroradiometer, the PR-6 series, which includes the PR-655, PR-670 and PR-680/L
PR-7 Series SpectraScan line
Complements the PR-6 series with an industry-leading sensitivity of 0.000017 cd/m2 and an industry first, automated variable spectral bandwidth down to 2nm
Originated with the industry workhorse, the PR-1980 series
The Pritchard is the most widely used photometer in the world.
The PR-880, the only fully automated filter photometer available today, is the newest addition to this series. The PR-880 is ideal for today's automated factory, automated test equipment and original equipment manufacturers environments.
JADAK continues to grow in its recently renovated Syracuse headquarters. This is the third company to become a part of JADAK. The first two were General Scanning Printer Technologies and SkyeTek RFID.
For more information, visit www.photoresearch.com and www.jadaktech.com.
ABOUT JADAK
From machine vision to RFID to bar code scanning to chart recorders, thermal printers and spectroscopy products, JADAK designs and manufactures embedded solutions that help customers solve unique inspection, tracking, scanning and documenting challenges. Since its inception in 2000, JADAK has focused on the health care market, and today the company is the leading provider of embedded solutions for medical device manufacturers. As JADAK continues to grow, it has also branched out into additional markets and has products and solutions in the security, gaming, enterprise tablet (scanning accessories) and customer engagement (kiosk) industries. JADAK has headquarters and manufacturing in Syracuse, New York, with sales and technical locations across the globe. Visit info@jadak.eu for more information.
More on the subject:
More on companies: