Philips and the World Association of Sleep Medicine join together
Royal Philips Electronics will join with the World Association of Sleep Medicine (WASM) as an official sponsor of World Sleep Day 2012. This year's theme– 'Breathe Easily, Sleep Well' – centers on raising awareness of sleep disorders that affect a person's breathing, such as obstructive sleep apnea (OSA).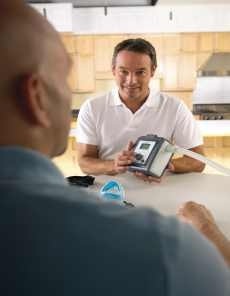 "Philips is pleased to work with the World Association of Sleep Medicine for World Sleep Day 2012 to build awareness and understanding around disorders that affect the quality of sleep, including obstructive sleep apnea," said Dr. David White, chief medical officer for Philips Home Healthcare Solutions and a professor of sleep medicine at Harvard Medical School. "Philips offers a wide range of sleep-related products and solutions, from diagnostic tools through to patient-centered sleep therapy devices, to enhance the quality of sleep and improve the health and well-being of people around the world."
One of the most common sleep disorders, OSA affects approximately five to six percent of the adult population and two to three percent of children. It is characterized by a narrowing or closing of the upper airway, which obstructs breathing during sleep. More than two-thirds of all people with sleep apnea are not diagnosed and if left untreated OSA can increase the risk of other serious chronic conditions such as diabetes and heart disease.
"The effects of sleep disorders should not be underestimated," said Allan O'Bryan, executive director of the World Association of Sleep Medicine. "Most sleep disorders are treatable, yet far too many individuals do not seek professional help. Philips and WASM continue working to help those with sleep-disordered breathing manage their conditions and lead healthier lives."
Philips is a pioneer in science-based sleep solutions, which are a strategic element of the company's commitment to provide innovative solutions for the home. Through Philips Respironics, a global leader in the sleep and respiratory markets, Philips provides medical sleep products, especially for people suffering from OSA and those who seek to improve their quality of sleep. To educate people on the risks, diagnosis and treatment options for OSA, Philips Respironics launched an OSA educational program on featuring an interactive OSA risk assessment "sleep quiz."
To find out more about World Sleep Day 2012 and what's happening in your local area clicke here.
More on the subject:
More on companies: