Philips SpeechMagic - Easy creation of medical reports
Documentation in hospital is a time consuming process: Clinicians speak their reports on a dictation system, but have no full control of report creation as members of the transcription department finalize it. Sometimes this complex procedure takes several days to be finished.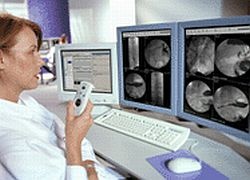 The Aberdeen Royal Infirmary (ARI), United Kingdom, recently installed Philips' front-end speech recognition software SpeechMagic. The software automatically transforms dictations into text - medical reports are available immediately after approval of the dictation.

Sixty Radiologists at the ARI currently use SpeechMagic, allowing accurate medical data to be provided quickly, supporting the treatment process. "SpeechMagic is integrated in our hospitals Radiology Information System. With the successful implementation of speech recognition, we have proven how positively a new technology can affect our working conditions and the services we provide to patients and clinicians," said Dr Olive Robb, radiologist at the ARI.
More on the subject:
More on companies: