Philips gives spectral CT an IQ with detector-based approach
For Pablo Ros, MD, the decision to use the new IQon Spectral CT system from Philips Healthcare is a no-brainer. The head of the radiology department at the prestigious University Hospitals Case Medical Center in Cleveland, Ohio, and the co-director of Case Center for Imaging Research, introduced the new technology on the first day at the congress of the Radiological Society of North America (RSNA) in Chicago.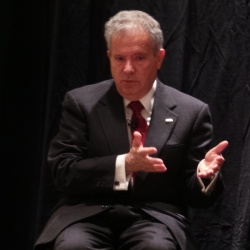 "The images we are seeing with the spectral CT are absolutely revolutionary," he said. "This is not an improvement of the image, this is something totally different."
Philips built the IQon Spectral CT system from the ground up by taking an innovative, detector-based approach using a fundamentally new technology that can discriminate between X-ray photons of multiple high and low energies simultaneously.
As a result, even a routine single-scan exam using the IQon CT system delivers not only anatomical information but also the capability to characterize structures based on their material composition.
"The beauty of this technology is that there is no pre-scanned determination of use. This is huge," said Dr Ros, explaining that clinicians do not need to decide before the exam to use the spectral view, as with recently introduced CT spectral systems.
"More importantly, we do not need to send a patient back to be re-scanned because we want to see a spectral view," he said. "Once we have the images, if we see something that we do not understand, we can return to the same images to ask the system to show the spectrum of water or fat, to remove metal artefacts, or highlight iodine that was used as a contrast agent."
He showed examples of how the "magic glass" view of spectral CT from a typical CT scan can enhance a diagnostic view of vessels or highlight iodine perfusion in tumours.
There is no break or change in the clinical workflow with this retrospective, on-demand data analysis on the Philips' IQon Spectral CT system.
The intelligence of the IQon Spectral CT processing means it can also be used with exams performed using Philips' Model Reconstruction (IMR) technology that simultaneously reduces radiation dose while enhancing image quality.
"We are very happy with the dose load that we have seen," said Dr Ros. "We can scan with the lowest dose possible and at the end of the day, whatever the quality of the exam we have made, we can ask for a specific spectral view.
"We have also done beautiful contrast studies with a third or even half of the usual iodine dose," he added.
"The potential is tremendous," he told European Hospital. "We have only scratched the surface."
More on the subject:
More on companies: