Patients with adrenal insufficiency need improved management
The largest ever, worldwide AI patient survey data presented at the 15th Congress of the European NeuroEndocrine Association (ENEA), Vienna, Austria. 87% of secondary AI patients and 60% of primary AI patients reported that their condition affected quality of life.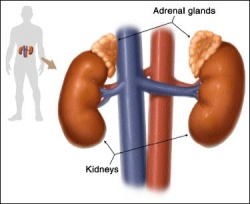 Patients with adrenal insufficiency (AI) on conventional immediate release oral hydrocortisone replacement therapy report a compromised quality of life, leading to significant changes in work, social life and physical activity, according to new data presented at the 15th ENEA Congress in Vienna, Austria today.1 The study authors suggest that patients with AI feel that there is a need for improved management of the condition and alternative options to standard glucocorticoid replacement strategies, especially in patients with secondary AI.
The worldwide survey of 1,245 patients, recruited through patient organisations,1 represents the largest known AI patient survey of its kind.2 Results revealed that 87% of secondary AI and 60% of primary AI patients reported that their condition affects their quality of life.1 Secondary AI patients reported a greater impact of fatigue on daily activities than primary AI patients, including on work life (58% of secondary AI v 44% of primary AI patients); social life (71% v 51%); physical activity (80% v 70%) and family life (64% v 39%).1
Adrenal insufficiency (AI) is a rare, chronic and potentially fatal endocrine disorder characterised by a reduction or failure in the production of the hormone cortisol.3,4,5 It is an orphan disease that affects less than 4.5 people in 10,000 in Europe.6
"Conventional immediate release oral hydrocortisone replacement therapy has been the mainstay of adrenal insufficiency management for more than 50 years but this survey adds to a growing body of evidence that standard therapy is not addressing the needs of patients, in particular those with secondary AI. Hydrocortisone replacement therapy should replace the body's natural, daily production of cortisol and mimic its diurnal variation, but immediate release conventional therapy cannot fully mimic the body in this respect, despite multiple dosing throughout the day," said survey co-author Dr Gudmundur Johannsson, Senior Consultant, Department of Endocrinology at Sahlgrenska University Hospital, Professor of Endocrinology, Sahlgrenska Academy, University of Gothenburg, Sweden.

"As a result of unsatisfactory AI management patients have an increased morbidity and a two to three-fold increase in mortality compared to the background population. 4 out of 10 AI patients reported issues with multiple daily dosing regimens which can result in compliance problems. It is therefore not surprising that this survey reveals a significant number of patients who are suggesting a need for improvement in their replacement therapy." Dr Gudmundur Johannsson continued.
The survey was made possible through funding from DuoCort Pharma, a wholly-owned subsidiary of ViroPharma Incorporated. "At ViroPharma Incorporated we are committed to addressing the medical needs of people living with rare (orphan) diseases. We worked closely with physicians and patient organisations in adrenal insufficiency to gain these new insights into the unmet needs of patients, and will be looking at how to address them," said Arun Mistry, Senior Director, Medical Affairs, Europe. "With this new evidence, we hope to improve disease management and hydrocortisone replacement therapy to enable patients to better partake in their work, family and social commitments."