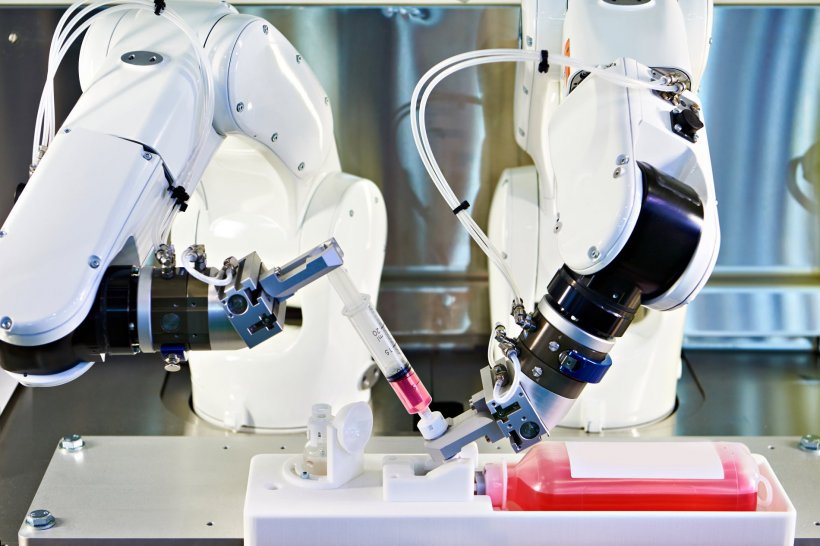 Image source: Shutterstock/Sergey Ryzhov
Article • Laboratory productivity
Outlook: Lab automation in 2021
Innovations in technology continue to improve clinical laboratory productivity. Total lab automation systems are responding to dramatic growth in internet-driven streamlined processes.
Report: Bernard Banga
In 2021, around the world, microbiology labs in commercial and university teaching hospitals have been processing more files and data then ever in 2021 and systems are constantly reorganising to reach a critical mass for profitability. Objectives: to reduce the time needed for reports, speed up workflow and improve overall sensitivity of results. This year, a dozen major operators have business units in this sector, including the world's top five in-vitro diagnostics (IVD) companies: Roche Holdings, Thermo Fisher Scientific, Abbott Laboratories, Becton Dickinson Life Sciences (BD) and Siemens Healthineers.
Covid-19: Increased testing volumes is unprecedented
The world still grapples with the impact of the ongoing Covid-19 pandemic, which has intensified research as well as added pressure on pharma and clinical labs. Ensuring quicker turnarounds has become the priority, which leads to greater demand for automated liquid handling, microplate readers and robotic systems.
Immunology and serology testing have gained importance during this pandemic, now in its third year. There has been significant deployment of polymerase chain reaction (PCR) and quantitative polymerase chain reaction (qPCR) techniques in laboratories and hospitals, to improve Covid-19 testing capacity. This unprecedented increase in testing volumes presented a great opportunity to ramp up automation in immunology diagnostics, clinical chemistry and haematology labs.
Recommended article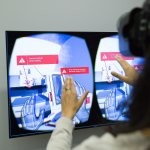 Article • Human-Computer Interaction
The need to effectively address HCI – Human-Computer Interaction – is emerging as the key challenge in creating a productive and efficient laboratory of the future. The subject was examined in detail by Andreas Schuller from the Fraunhofer Institute for Industrial Engineering, during a conference in Barcelona, which brought together more than 1,000 scientists and technologists.
Total lab automation embeds in biochemistry labs
Today, total lab automation enters a new phase. Laboratories are investing heavily in Total Lab Automation (TLA) systems supplied by in vitro diagnostics companies. These systems combine to form an integrated system for total automation of pre-analytics, processing, clinical chemistry and post-analytics immunochemistry workstations. The aim is for specimens to be processed, analysed, and even stored with minimal user intervention. According to the American Association for Clinical Chemistry (AACC), 4,000+ laboratories worldwide have now installed automated systems.
Robotic systems or centralised hubs in Europe
On the one hand, mid-sized facilities (1.5 to 6 million tests annually) are often equipped with only the latest generation compact systems combining clinical chemistry and immunoassay activities, taking up around 2 m2, allowing a through-rate for tests of 870/hour. Larger laboratories tend to invest in bigger systems, or even in several systems in parallel, integrating the haemostasis and haematology sections,' explained Marie Rolin, mission manager at Alcimed, a French consulting company focusing on innovation and development of new markets.
In Europe, university teaching hospitals constitute the main contingent of laboratories to have adopted robotics systems. Whereas university hospitals in Germany, the United Kingdom and France are generally equipped with a maximum of 2 TLA stations per facility, a specific feature is emerging in Italy and Spain where regional technical platforms are regrouping into gigantic centralised 'hubs', sometimes with up to six TLA stations in parallel.
Connecting challenges for digital transformation
The choice of upgrade instruments for immunology, clinical chemistry, haemostasis and haematology is now frequently reliant on their compatibility with TLA systems

Marie Rolin
All stages of analysis can ultimately be combined under TLA – provided, crucially, that the analysis instruments can work at the same speed as the tube conveyor. However, one issue looks big for full lab automation: equipment upgrades. For suppliers of diagnostic instruments, the opportunities associated with TLA innovation have been quickly overshadowed by the urgent need to upgrade. 'The choice of upgrade instruments for immunology, clinical chemistry, haemostasis and haematology is now frequently reliant on their compatibility with TLA systems,' Rolin pointed out.
Emerging AI-based tools for TLA
The current need for automation is increasing largely owing to the dramatic growth in internet-based processes. Connecting devices to the internet enables remote patient monitoring, alerts, management, etc. Digital transformation is driving growth in this market. As manual systems still expose the process to the risk of error, implementing Internet of Things (IoT) systems helps to collect data both digitally and accurately, which has been shown to reduce the time needed by 60%. IoT also offers IVDs the ability to interact directly with the support layer, allowing events to be captured electronically.
As connected technology and cloud-based laboratory information management system (LIMS) platforms evolve, new tools emerge. These help companies to reap the rewards of digital transformation. The internet-based tools provide labs with a secure means for organising data, allowing quick and easy access to information, while allowing companies to exercise control over data sent to third-party instrument providers.
Finally, systems implementing IoT will be able to deliver server control and monitoring of various sensors, and can easily be configured to handle further hardware integration modules. Sensors fitted to devices can assist with data collection and communication with the cloud and other devices.
Mass spectrometry and TLA
According to Professor Gian Luca Salvagno, at the department of clinical biochemistry in the University of Verona, Italy, 'The spread of laboratory automation is also embracing mass spectrometry.' The new generation of pre-analytics workstations, which can be connected directly to mass spectrometer systems, will allow the automation of manual extraction and the elimination of time-consuming activities, such as tube labelling, capping and de-capping.
'The use of automated liquid-handling platforms for pipetting samples and protein precipitation reduces turnaround time and increases throughput in mass spectrometry testing,' Salvagno added. The development and integration of different technologies into automated mass spectrometry (MS) analysers will also generate technical and practical advantages, such as pre-packaged, ready-to-use reagents, automated dispensing, incubation and measurement, automated sample processing, multiplex testing and automated validation and interpretation.