On show at RSNA 2007
New clinical applications and streamlined workflow with Visage PACS/CS
Visage PACS/CS, a scalable PACS solution based on web and thin client technology with fully integrated clinical applications, is to be demonstrated at this year's RSNA in Chicago, along with a comprehensive portfolio of life sciences products and services from Visage Imaging, a subsidiary of Mercury Computer Systems Inc.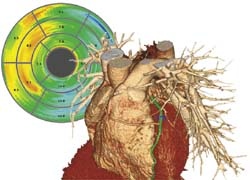 The firm will also launch a major new release of Visage Cardiac Analysis, a comprehensive CT cardiac application based on thin client technology.
'Visage Imaging's completely integrated Visage PACS/CS solution enhances the entire clinical workflow, with advanced tools for 2-D, 3-D, and 4-D image review and interpretation, post-processing, data management and image distribution,' the company reports. 'The image data as well as the applications within Visage PACS/CS are not bound to specific workstations and become instantly accessible anywhere, anytime within the PACS workflow.' The system is a truly thin client-enabled PACS solution, Visage Imaging emphasises. 'It provides virtually instant data access and superb 3-D performance anywhere inside and outside the hospital enterprise, on existing workstations, PCs, and laptops. The latest version of Visage PACS/CS provides greatly improved performance also in Wide Area Networks (WAN) and over slow DSL lines, thus enabling very efficient remote operation across distributed imaging centres, providing better services to referring physicians, and opening new ways for reviewing images efficiently from home.'
The new version of Visage Cardiac Analysis includes new tools and optimisations, such as calcium scoring, myocard segmentation, wall thickening computation, improved reporting, and efficient manual editing. 'This makes Visage Cardiac Analysis the only comprehensive and integrated cardiac analysis application that is not bound to a specialised workstation. The Visage PACS/CS platform allows for sharing data and applications across radiology and cardiology departments, and helps to unleash the true potential of the latest scanner technologies and diagnostic tools.'
According to its maker, the PACS/CS will also feature new and optimised tools for radiology, cardiology, neurology, oncology, surgery, and other subspecialties, such as application-specific display and post-processing protocols, saving and sharing of annotations and post-processing results, volume analysis of lesions and structures in 3-D, improved automatic bone removal, and many others.