Non surgical mitral valve repair: First enrollment in ACCESS-Europe study
Evalve, Inc., the leader in the development of devices for the percutaneous repair of cardiac valves, announced the first enrollment in the ACCESS-Europe study, a post-market observational study of the MitraClip therapy in Europe. The system is the first commercially available treatment option for non-surgical mitral valve repair for patients suffering from the effects of functional and degenerative mitral regurgitation (MR).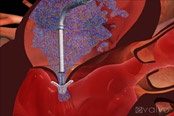 MR affects millions of people worldwide and is the most common type of heart valve insufficiency in Europe and the United States. In Europe, similar to the US, there are approximately 250,000 new diagnoses of significant MR each year; however, only 20 percent or approximately 50,000 of these patients undergo surgery each year. Non-surgical patients and many of the higher risk surgical patients continue to be affected by the chronic volume overload caused by MR, which requires the heart to work harder, which may lead to heart failure and hospitalization.
The first patients were enrolled in ACCESS-Europe by a team led by Professor Corrado Tamburino, M.D.; Gian Paolo Ussia, M.D.; Salvatore Scandura, M.D.; and Sarah Mangiafico, M.D. at Ferrarotto Hospital at Catania University in Sicily, Italy.
"ACCESS-Europe will provide important clinical care and health economic information about the MitraClip therapy," said Professor Tamburino, chair of cardiology, cardiology department, cardiac catheterization and interventional cardiology, Ferrarotto Hospital, University of Catania, Sicily. "This data will allow us to further understand the benefits of the MitraClip therapy for patients with mitral regurgitation and the health economic benefits of a less invasive alternative for patients suffering from MR."
The ACCESS-Europe study will evaluate the MitraClip therapy in the continuum of care available to patients with MR. Patients will be evaluated at baseline through 12 months after enrollment. As many as 20 institutions within Europe will participate and up to 300 patients treated with the MitraClip(R) device will be enrolled. In addition, information will be collected in two comparator groups, one which includes medically managed heart failure patients with MR and another which includes patients who are undergoing mitral valve surgery for MR.
"Initiating enrollment in ACCESS-Europe is another important milestone for Evalve and the MitraClip therapy," said Ferolyn Powell, president and chief executive officer of Evalve. "This study is designed to provide meaningful clinical and health economic information building on the important foundation of data already generated in the US. The early experience in Europe has been primarily the treatment of patients who are either non-surgical candidates, or higher risk surgical patients, with functional MR."
Evalve received CE Mark approval for the MitraClip(R) system last year, and has worked with hospitals across Europe to establish training programs in support of the European roll out. Patients have been treated in Italy, Germany, the United Kingdom, the Netherlands and Switzerland.
About the MitraClip(R) Procedure
Percutaneous mitral repair with Evalve's MitraClip(R) device is performed by physicians in the catheterization laboratory. The heart beats normally during the procedure, and therefore does not require a heart-lung bypass machine. In addition to improving blood flow through the heart, the procedure may also relieve symptoms such as fatigue and shortness of breath that often affect patients with significant MR. After treatment, patients generally recover quickly. The MitraClip(R) device may improve quality of life and may help MR patients avoid or delay surgery, having preserved surgical options (valve repair or replacement) should surgery become necessary.