Non-invasive device detects early-stage respiratory irregularities
Evolving from an award-winning project carried out by undergraduates of the Technion-Israel Institute of Technology, Israel's leading University for science and technology, a new non-invasive device for detecting early stage respiratory irregularities is momentarily in development. The novel respiration monitor is intended to immediately detect deterioration in lung ventilation of ICU patients.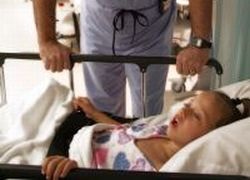 Deterioration in lung ventilation, e.g. due to airway obstruction, pulmonary oedema or pneumothorax, is a common problem in ICU patients. Early detection of such problems could reduce the risk of life-threatening damage but detecting these complications in early-stage is still a challenge for medical personell. As current respirators and supportive devices do not directly measure chest cavits mechanics, which would serve as a safe indicator, complications are often recognized not until reaching an advanced state.
"Our device monitors respiration mechanics," explains Dr Carmit Levy, lecturer at the Technion. "We placed external sensors on the sides of the chest and the upper part of the stomach of a premature baby on a respirator. By doing so, we can monitor lack of symmetry between the two lungs and the development of mechanical disturbances in lung ventilation." The respiration monitor was also able to detect less common complications, such as tension pneumothorax, in adults likewise.
The undergraduate project, that was carried out by the Thechnion students Hagay Weisbrod and Nitai Hanani, led to the company foundation of Pneumedicare. The company sees a significant market potential for the device. In the USA the annual ICU costs for the care of children and adults are expected to rise to more than $35 billion. Thus early detection of problems has great potential to reduce the length of hospital stays, as well as long-term costs associated with respiratory problems.
Clinical trials are now underway at the Carmel Medical Center in Haifa, Israel and Pneumedicare expects to enter the market by mid 2009 with their innovative product.