New Mutilation Disorder of Adolescents Discovered By Radiologists
Radiologists evaluating a new ultrasound technique for locating and removing objects accidentally embedded in the body have discovered a new form of self-mutilating behavior in which teenagers intentionally insert objects into their arms, hands, legs, feet and ankles.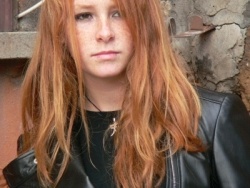 This self-inflicted injury, dubbed the "self-embedding" disorder, was announced at RSNA 2008 by Dr. William E. Shiels II, chief of radiology at Nationwide Children's Hospital in Columbus, Ohio.
More than 90% of the patients identified to date are girls between the ages of 15 and 17 who also exhibit suicidal behavior trends. All the cases in the Ohio study involved girls living in foster homes, group homes, or mental health facilities. Many had experienced or witnessed physical or sexual abuse, and most had been diagnosed with depression, anxiety or other mental health problems.
Embedded items included needles, pencil lead, staples, glass, slivers of wood, unfolded paper clips, and even pieces of crayon. The teenagers force these items into the skin or into a self-inflicted wound.
Self-injury is a disturbing trend that has been increasingly occurring in the United States. Its extent is not known because many cases are not reported to physicians. Dr. Shiels believes that the "self-embedding" disorder is rare because medical professionals are not looking for it, there is no way to determine its true scope. In addition to the United States, cases have now been documented in Japan.
Dr. Shiels and the Nationwide Children's Hospital have established an international registry to collect data on this disorder for research and to offer a location to gather statistics document the extent of the problem.

Picture Source: Sabine Meyer at pixelio.de