The Fetatrack DD250
Weighing just 2 KG, in a hospital, small clinic or doctor's surgery the fully portable Fetatrack DD250 can provide continuous foetal and vascular dopler. The unit operates from a mains electricity supply for 30 hours; alternatively the built-in rechargable batteries can be used. 'The system has all the necessary facilities for accurate antenatal foetal assessment in one compact unit,' explained its manufactuer Ultrasound Technologies Ltd, designer of medical ultrasound equipment since 1992 backed by a design team with over 20 years experience in this field. 'With its fully digital autocorrelation, the foetal heart detection it provides is accurate and reliable with the display of foetal heart rate on a large easy-to-read LCD display.'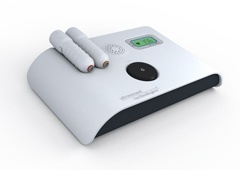 Simple to operate, Fetatrack DD250 has just one control that turns the unit on/off and adjusts the volume.
Foetal heart records can be stored via the FetaTrace software, available as a monitoring package with the option of a wide-angle monitoring transducer.
Ultrasound Technologies Ltd recently won the Index Award Design for Life for its contribution in the design collaboration with Freeplay Energy in Cape Town, for the first-ever self-powered doppler to be used in developing countries around the world where electrical power is not available. 'UNICEF is a strong believer that this little doppler will help to save millions of mothers and babies across the world and we are very happy to be a part of this fantastic product,' said Nick See of Ultrasound Technologies.
All the company's products are designed using state of the art CAD systems and manufactured using surface mount technology. Ultrasound transducers are designed and tested using in-house beam characterisation equipment to maintain a high performance over the product's life.
In 2000 the firm opened a European sales and support office in Germany. In 2001 its production, administration, marketing and design were moved into its new facility in Caldicot, South Wales, and further expanded at the end of 2002 when it acquired the Doppler and Monitoring divisions of Seward Medical Ltd.
Two years later, Ultrasound Technologies Ltd was voted Exporter of the Year for 2003 by Wales Trade International and the Chamber of Commerce.
The company's products are approved to international standards and currently exported internationally through a network of distributors and directly from its web ordering system UltraTec Direct.
Today, with sales offices in the UK, Germany, Latin America and France, over 70,000 of the firm's ultrasound units are in use in more than 90 countries, where they are also supported by a dedicated team of distributors.
Details: www.doppler.co.uk
Meet the Ultrasound Technologies team at Medica
Hall 9. Stand D51