New insights of the role of microbial communities in the Human Gut
454 Life Sciences, a Roche company, announced that a team of researchers at Washington University in St. Louis have characterized the human gut microbiome by sequencing the microbial communities of adult twins and their mothers with the Genome Sequencer FLX System.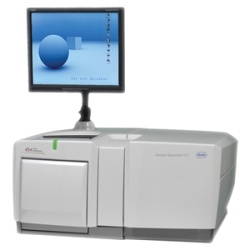 The work is part of the International Human Microbiome Project, an initiative to define the role and structure of microbial communities within the human body. Surprisingly, the study invalidated the hypothesis that a uniform human gut microbiome exists at the level of bacterial species. Instead, the results demonstrate that common metabolic functions yield a gut microbiome that is carried out by communities varying greatly in exact species composition across individuals. When comparing lean and obese twins, the researchers found further that deviations from this core functional microbiome were associated with the differences in physiologic states. The study, titled "A core gut microbiome in obese and lean twins," appears online in the November 30th issue of Nature.
The human body harbors trillions of diverse microbial organism which collectively form a community or "microbiome". The body is dependent upon interactions with these microbial organisms for a variety of known functions, including nutrient digestion and immune defense. Previous studies led by co-author Dr. Jeffrey Gordon at Washington University in St. Louis suggest that gut microbial communities impact the nutrient value extracted from food, as lean mice develop significant increase in body fat when inoculated with 'obese microbiota'. While lean and obese humans have an analogous composition of gut microbiota, no study has explored the effects of inheritance, environmental exposure and obesity on their structure.
Using the Genome Sequencer FLX System, the investigators found that individuals from the same family had more similar bacterial communities than unrelated individuals. However, the immense microbial diversity found across all individuals forced them to re-think their hypothesis of a "core microbiome" based on the relative abundance of bacterial families. Instead, common functional categories of genes and metabolic pathways were consistently found across all samples, implying that a variety of bacterial species can perform the same metabolic functions. Further studies to characterize human microbial communities must now consider the tremendous diversity between individuals.
When comparing gut communities across lean and obese twins, the study revealed significant differences in genes associated with nutrient metabolism. These results serve as a starting point for further comparative analysis of gut microbiota in individuals with intentional weight gain or loss.
The study also demonstrated the tremendous value of long sequencing reads for assigning species identity in metagenomic analyses. By comparing reads of varying lengths against the new GS FLX Titanium series reagents, which generate over 400 base pair reads, the investigators found that the frequency and quality of sequence assignments significantly improved as read length increased. "Our metagenomic studies of the gut microbiomes of lean and obese twins have benefited greatly from the longer, more numerous reads. We can now explore the composition and functional attributes of the microbiome in ways that were simply not imaginable to us just a few months ago," said Dr. Jeffrey I. Gordon, Professor and Director, Center for Genome Sciences at the Washington University School of Medicine. "The students and post-doctoral fellows in our group are looking forward, with great anticipation, to using this transforming technology to help gain insights about the assembly and transmission of the gut microbiome, its conserved characteristics, its variations, and its relationship to different host physiologic and pathophysiologic states".
"This study unambiguously demonstrates the value of metagenomic sequencing and the necessity of long reads to achieve a high resolution picture of a tremendously diverse environment like the human microbiome," said Dr. Michael Egholm, Chief Technology Officer at 454 Life Sciences and co-author of the study. "We are very pleased to see how the high-throughput sequencing of 454 Life Sciences truly enables metagenomics; a rapidly growing discipline in biology."

454 Life Sciences, a center of excellence of Roche Applied Science, develops and commercializes the innovative 454 Sequencing system for ultra-high-throughput DNA sequencing. Specific applications include de novo sequencing and re-sequencing of genomes, metagenomics, RNA analysis, and targeted sequencing of DNA regions of interest. The hallmarks of the 454 Sequencing system are its simple, unbiased sample preparation and long, highly accurate sequence reads, including paired-end reads. The technology of the 454 Sequencing system has enabled hundreds of peer-reviewed studies in diverse research fields, such as cancer and infectious disease research, drug discovery, marine biology, anthropology, paleontology and many more.
More on the subject:
More on companies: