Sponsored • Eliminating the need for additional monitors
New displays for different diagnostic images
Displaying medical images from different modalities such as CT, CR/DR, MR, ultrasound or mammography and pathology on one monitor - that is what most radiologists want. Many of them still use several medical displays next to each other.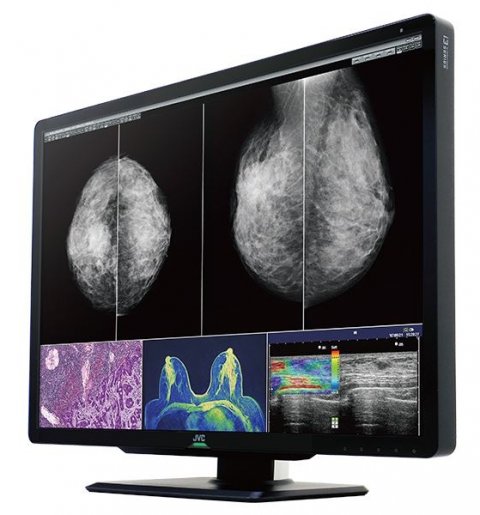 JVCKenwood's new CL-S1200 30.9-inch colour monitor makes this a thing of the past. The 12 megapixel device (4,200 horizontal and 2,800 vertical) can display different medical images side by side. The arrangement of the windows is freely selectable, the large screen without a central bar creates a comfortable environment for radiological diagnostics. With its maximum brightness of 1200 cd/m² and a contrast ratio of 1500:1, it is also suitable for mammography.
Latest technology integrated
The innovative Turbo Luminance function can increase the brightness and contrast of the screen for a maximum of 30 seconds to enlarge recognisable grey scales. This enables the radiologist to reliably assess even low-contrast lesions on mammograms. The effect is further enhanced by the Visual Point mode.
With the CL-S1200, luminance and colour temperature are adjusted automatically and in real time. "The built-in colour front sensor on the screen constantly measures the colour temperature and adjusts changes over a long period of time", says Marcel Herrmann, Marketing Manager Medical Imaging at JVCKenwood. This is easy on the eyes of the person reporting - just like the built-in lighting on the back of the monitor and the indirect lighting of the keyboard and mouse.
One diagnostic monitor for all kind of images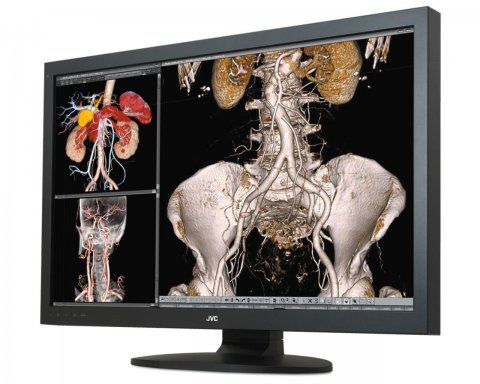 With the CCL650, Japanese monitor supplier JVC has brought a 6-megapixel color display to the market. With a screen diagonal of 30 inches, a brightness of 800cd/m² and a contrast of 1,000:1, the CCL650 is a complete workstation for the reporting of thorax images as well as CT, MR and PET CT images. Now these specifications have been significantly updated. With a now substantially increased brightness of up to 1050cd/m². This now enables even longer life compared to its predecessor.
Despite the high contrast, the new display promises a long service life. This is mainly due to the LED backlight. Compared to CCFL monitors, these save up to 20 percent electricity. This saves energy and reduces CO2 emissions. In addition, LEDs contain no mercury or other harmful components, which makes disposal easier. "Due to the longer service life of the LEDs of 20 to 25 percent, the service life is also extended dramatically. This enables operating times of up to 30,000 hours. Based on 8 hours of daily use, the monitors can be operated for 3,750 days, which is equivalent to more than 10 years," explains Marcel Herrmann, Marketing Manager Medical Displays at JVCKenwood, about an advantage of the new display.
Also integrated in both displays are the innovative technologies Dynamic Gamma and Auto Text Mode.
Pixel by pixel
For multimodal examinations, compromise is not acceptable; both images should be displayed in optimal quality

Marcel Herrmann
Different image data require different types of display. For example, grayscale images perform best with a DICOM curve, while color images perform well at a static gamma of 2.2. However, when switching between these two presets and displaying color and grayscale images at the same time, both are not displayed optimally. "For multimodal examinations, however, the compromise is not acceptable; both images should be displayed in optimal quality," says Herrmann. "This is exactly what Dynamic Gamma does, which defines a gamma for each pixel individually - in real time and without flickering. Even ultrasound images are thus perfectly displayed".
Brightness when needed
Radiologists need high-resolution monitors for reliable and high-quality reporting. However, large white areas on these displays dazzle report fields or work lists. "Auto Text Mode reduces the brightness at precisely these areas without affecting the rest of the image area. The adjustment regulates the display automatically," explains Herrmann.
"A particular challenge was to implement these two functions in the display itself. None of these new technologies require software installation or configuration by the user," Herrmann continues.
For more information, please visit http://healthcare.jvc.com/
More on the subject:
More on companies: