Sponsored • Innovation and acquisitions
Step by step to becoming a healthcare company
JVC Kenwood establishes itself through innovation and acquisitions
JVC Kenwood has become a world leader in broadcasting and consumer audio products. But the company from Kanagawa, Japan, has also been a well-known name in the medical field for decades. It began with projection solutions and radio technology, both for small intercommunication solutions and entire emergency call systems. Finally, in 1975, the company entered the medical monitor business and introduced the world's first 8-inch X-Y monitor for ultrasound. Thereafter, the company established itself with the development and manufacture of high-end medical monitors and a combination of unique technologies and know-how.
Superlatives pave the way
An important building block in the development towards a full range of medical monitors was the acquisition of Totoku, which took effect on July 1, 2013. What was quickly felt and then reflected in product development: The two companies' philosophies of quality and innovation were a good fit. After the takeover, the know-how was bundled and new areas and applications were gradually developed. The first result at the time was a display for pathology, followed by a video solution based on a 4K video-capable camera from the broadcast sector and a DICOM preset viewing monitor.
Thus, the last 40 years at JVC Kenwood have been characterized by superlatives:
1976 Introduction of the world's first ECG monitor
2000 Introduction of the world's first medical flat panel display with 2 and 5 megapixels (MP)
2001 Introduction of the world's first monochrome 20.8-inch LCD monitor with 2 and 3 MP and calibration for medical imaging
2005 Introduced the world's first high-brightness color monitor with more than 450 cd/m²
2007 Introduction of the world's first 15 MP LCD monitor for mammography thanks to independent subpixel technology
2008 Introduction of the world's first 6 and 9 MP subpixel monitor
2010 Release of the world's first 3 MP mammography monitor by the Food and Drug Administration (FDA)
2015 Introduction of the world's first 5 MP medical color mammography monitor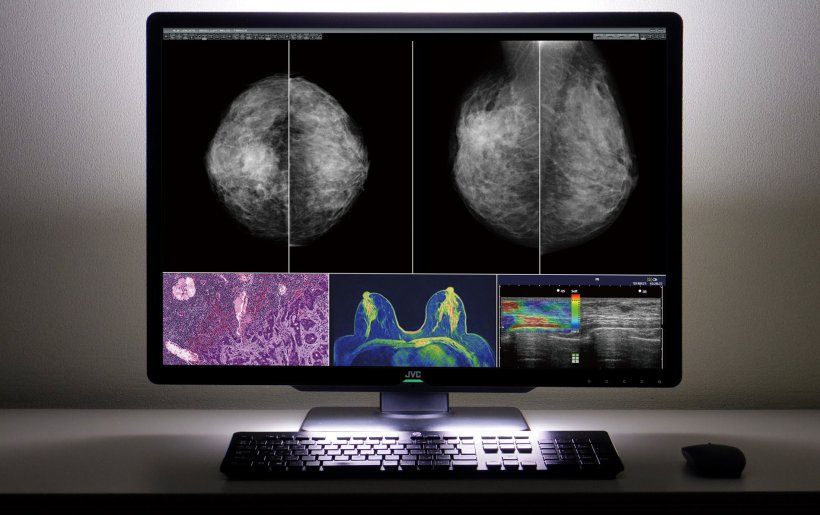 Finally, in 2017, JVC Kenwood launched its i3 series. The new 3D lookup table enables the best possible color calibration. Colors have never been so natural and accurate. This also ensures that the image impression is the same on every monitor throughout the facility. In combination with the new color front sensor, this is guaranteed for the entire life of a display.
Bringing the OR into the portfolio
Since March 1, 2018, with the acquisition of Rein Medical, JVC Kenwood's portfolio also includes medical IT solutions and fully integrated image documentation and OR systems. In these areas, Rein Medical is one of the leading companies in Germany and Europe with more than 500 OR installations as well as over 2,000 implemented monitor solutions.
Integrated OR solutions help to ensure that operations can be performed smoothly and safely using modern medical equipment and data systems. They make a significant contribution to meeting the increasingly demanding requirements in the medical field and promise great potential for the future. In addition to OR solutions, Rein Medical offers a wide range of medical and surgical monitor, PC, and all-in-one computer solutions specifically designed for hygienically sensitive areas in the hospital as well as in the OR and ICU. By coupling Rein Medical's OR systems with JVC Kenwood's camera solutions, image recording and playback devices, and high-resolution Full HD and 4K IP transmission systems, new opportunities are now also available to users.
With the acquisitions and an expanded portfolio, JVC Kenwood is now a broad-based healthcare company.
More on the subject:
More on companies: