New Digital Camera for Fluorescence Applications
Leica DFC345 FX – High Speed, Sensitivity and Resolution
The detection and documentation of low light fluorescence signals in live cell experiments is a particular challenge for digital cameras. To meet this demand, Leica Microsystems adds the new Leica DFC345 FX to its portfolio of powerful digital cameras. In addition to combining high sensitivity with high resolution, this new camera features a fast image capture rate and a broad dynamic range, making it ideal for multidimensional live cell observation under low light conditions.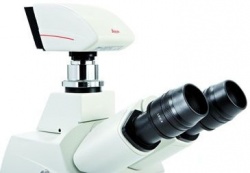 Brilliant and detailed fluorescence photography
The two-megapixel CCD sensor (pixel size 4.4 µm) guarantees excellent resolution of detail. The high dynamic range allows the acquisition of multicolor images in one shot without time-consuming overlay. There is a
choice of 40 MHz pixel clock rate for fast image readout or a 20 MHz pixel clock rate, ensuring low noise for top picture quality.
In low light conditions, photoelectric compo­nents have to be cooled so that the camera can produce noise-free pictures during long exposure times. That's why the Leica DFC345 FX is equipped with one-stage Peltier cooling
for effective suppression of background noise. This, combined with the high resolution of detail, produces brilliant images rich in contrast – even for weak fluorescence signals.
Fully integrated for versatile application potential
The FireWire-B interface allows simple and reliable transfer of data to the computer without an additional power supply. The Leica DFC345 FX is fully integrated into the software platforms of Leica Microsystems: the modular
Leica Application Suite (LAS) for simple fluorescence documentation and image archiving, the user-friendly LAS AF for sophisticated, high speed fluorescence applications and Leica MM AF (powered by MetaMorph) for
demanding analysis.