Sponsored • World-class technologies
New cutting-edge products and clinical applications
"With Your Stories – lifetime healthcare support" is the ­future-driven approach combining the best of two worlds by using our insight and expertise in medical imaging systems and laboratory instrumentation to benefit patients through even better prevention, diagnosis, treatment and follow-up and thus help them in the pursuit of a healthy life.
Recognized for its global strategies and product launch efforts
Shimadzu was recognized for its global strategies and product launch efforts for diagnostic X-ray imaging systems and received the 2017 Global General Radiography Product Line Strategy Leadership Award from Frost & ­Sullivan. RADspeed Pro EDGE, MobileDaRt Evolution MX7, and Sonialvision G4 were the systems that were decisive for winning this award.
Angiography & Cardiology – New: Trinias unity edition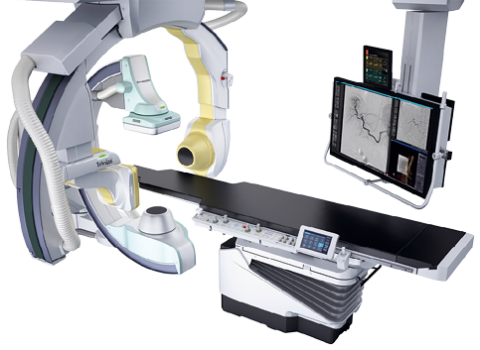 The Trinias unity edition series supports less invasive treatments through a variety of smart applications. It is available in 10 different versions, as bi-plane or single-plane, ceiling- or floor-mounted system. Different FPD sizes (8 x 8 inch, 12 x 12 inch & 16 x 12 inch) provide highest flexibility to individualize Trinias unity edition as a dedicated cath lab or even crossover system.
SMART Table Highly complex cases in the cardiac, neurological, and peripheral regions are comprehensively supported being equipped with SMART Table.
SCORE PRO Advance provides high-quality radiographic and fluoroscopic images with fewer motion artifacts and a lower dose. Above all, the new motion-tracking noise reduction technology minimizes noise and allows sufficient visi­bility of the tip of the guide wire and ­catheter.
Flex-APS This real-time artifact optimization technique is an automatic offset function to reduce misregistrations of DSA. Flex-APS automatically detects and optimizes the sectional pixel movement gap between the MASK image and each frame image regardless of the ROI's movement direction, such as twisting.
SCORE Chase is designed for real-time whole peripheral observation. The long-view whole peripheral image is stitched and displayed automatically without time lag.
SCORE StentView is a software developed specifically to support PCI procedures based on real-time image processing technology, a Shimadzu specialty. SCORE StentView displays stents in a fixed position, but rather in real-time.
Surgical C-arm system – Opescope Acteno
High operability and image quality
The Opescope Acteno enables free and easy positioning and optimal performance to meet the demands of operation and emergency rooms. The fully counter-balanced C-arm provides extra smooth and extra quick C-arm movements and positioning.
Shimadzu's unique C-arm lock/release button on the image intensifier allows the C-arm to be positioned from the clinician's side without the need to go back to the cart unit. The enlarged 78 cm wide opening of the C-arm facilitates approaches to the patient, minimizing the risk of contact with the operating table.
Unique RSM filtering technology minimizes motion artifacts in DSA
Unique Touch Focus technology optimizes the image brightness focused on the selected ROI
General Radiography – RADspeed Pro EDGE
High-performance digital radiographic system with extended functionality
The RADspeed Pro EDGE digital radiography system adds numerous functionalities to support diagnostics in clinical applications, such as orthopedic surgery, and general radiography for many different parts of the body.
These functionalities can be added complementing the RADspeed Pro EDGE system:
Tomosynthesis allows to easily obtain multiple digital cross-section images from a single linear tomography scan.
Dual Energy Subtraction utilizes the difference in X-ray absorption levels of bones and soft tissue to generate separate images, which is useful for diagnoses in the chest area, such as lung cancer.
Auto Stitching Radiography covers the entire lower extremities or entire spine and links the settings made on the X-ray tube with the Bucky table or Bucky stand with subsequent automatic image stitching.
Radiography & Fluoroscopy – Sonialvision G4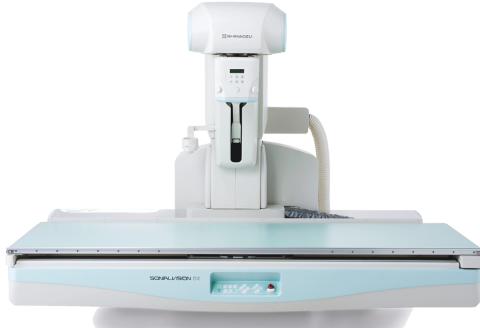 "Best-in Class" digital multipurpose R/F system
The Sonialvision G4 high performance R/F table provides numerous best-in-class features significantly increasing its functionality and operability. Sonialvision G4 unites the widest possible range of examinations with inter-departmental hospital capability. The largest available FPD at 43 x 43 cm provides an extensive imaging area.
New SUREengine FAST (Fluoroscopy Assisted Studies and Treatments) This new image processing technology significantly reduces the X-ray irradiation dose in ERCP, which is used in the examination and treatment of bile and pancreatic ducts using endoscopes.
SLOT Advance This function provides high accuracy images with long fields of view, such as for full spine or full leg images, taken
with a minimal X-ray dose. SLOT Advance acquires a series of accurate images of a few centimeters central slit and therefore allows precise measurements of extremities.
T-smart This feature generates even clearer tomosynthesis images by further suppressing the artifacts around metal objects. The T-smart application is of great help in orthopedics, as it allows a very exact diagnosis of the status of the boundary between bone and implant.
Mobile DR – MobileDaRt Evolution MX8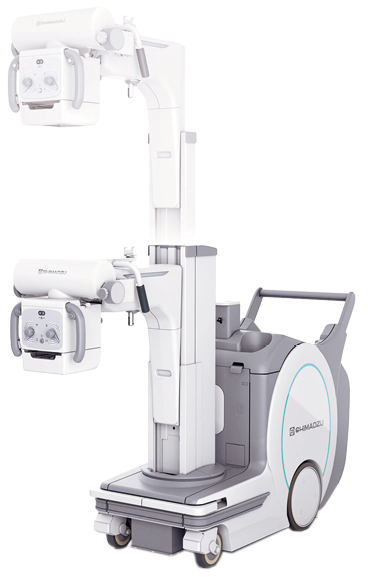 Shimadzu's first telescoping support column for even more convenient drivability
The Shimadzu MobileDaRt Evolution digital mobile X-ray system has been favorably received thanks to its excellent maneuverability, reliability, performance and ease of positioning.
The newly redesigned MobileDaRt Evolution MX8 version has been developed to provide users with multi­faceted support based on Shimadzu's extensive technology and track record cultivated thus far. The most important features are:
Collapsible column ensuring enhanced forward visibility and enabling even more convenient drivability and positioning
Various functionalities such as new, completely flat 19" monitor improving
operability; "All Free" buttons releasing the electromagnetic locks, enabling simple one-step positioning of the X-ray tube arm;
Selectable FPD series allowing flexible system configuration.
Shimadzu iss at ECR 2018
Expo X2, stand 218
More on the subject:
More on companies: