Neurosurgical guidance progresses toward navigation
Unique software embeds an extensively annotated normal template into a patient's axial images, Vinodh A Kumar MD reports from the Division of Diagnostic Imaging and Physics, University of Texas MD Anderson Cancer Centre, Houston, Texas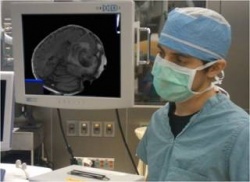 After a decade of mapping the head and neck, as well as chest, abdomen and pelvis for radiotherapy contouring, Anatom-e is now providing extensive functional brain mapping for use in diagnostic radiology, radiosurgery, and neurosurgery.
In its first year of pre-operative planning, Anatom-e has provided clinically useful information in over 50 glioma cases resected at MD Anderson Hospital in Houston, Texas.
This unique software embeds an extensively annotated normal template into the patient's axial images. This requires only a few minutes of a technician's time and the results can be viewed in a volume rendered curvilinear reconstruction. This novel presentation of the data is often critical for visualising the nuances involved in tumour localisation and planning of the surgical approach.
In the example case, a large glioma in the left cingulate region appeared to displace the motor fibres but an identical path is seen on the normal side. The post operative cavity shows the tumour has been completely cored out from within, using an approach that avoided the overlying motor leg fibres. Planning this approach utilised a software feature that can instantly produce extensive anatomic and clinical deficit data for any region of interest. This makes it possible to perform virtual pre-operative surgical procedures.
A prototype navigation system is currently being tested during awake-craniotomies in preparation for submission to the FDA. The Anatom-e software will be displayed in the scientific exhibition at the RSNA in Chicago.