Negative pressure wound therapy
Quality in wound care no longer centres only on a successful healing process but is taking a more holistic, patient-orientated approach. Wounds cause pain, impair quality of life, and make treatment far more complex for medical teams. Approaches that facilitate a painless change of dressings and less wound trauma are therefore welcome – and advancing.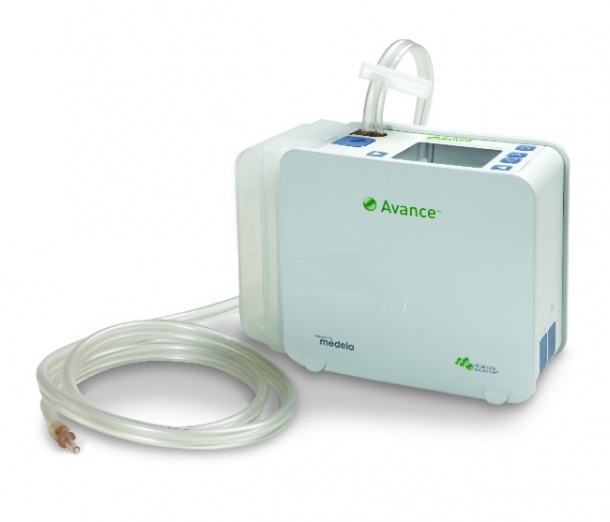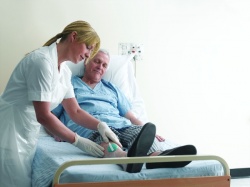 In Negative Pressure Wound Therapy (NPWT) a wound is filled with foam, or gauze, and covered with foil and then a pump, or suction system, aspirates wound secretions. The constant or intermittent suction helps to promote the development of granulation tissue faster and more efficiently.
For some time, this promising system was only offered by one provider, and was cost intensive for both in- and out-patient care. However, the market is developing. Two highly specialised international firms -- Mölnlycke Health Care, which manufactures wound care and surgical products, and pump manufacturer Medela AG -- joined up this spring to introduce in Europe Avance, their negative pressure wound treatment system. Petra Skroblies, Marketing Director for Wound Care at Mölnlycke Health Care GmbH, spoke with EH about the value and great potential of NPWT.
In the future, NPWT is set to become more important through the increased competition in the market, Petra Skroblies pointed out. 'It will become more economical but also more technologically mature. Our Avance system, for instance, is characterised by particularly easy and quiet handling. This means significant relief for nurses and also that the patient is not exposed to constant noise.
'Avance is already used in England, Sweden, Germany and the Benelux countries. The feedback has been consistently positive. In Germany, NPWT carried out in a hospital is reimbursed by medical insurers but if carried out outside the hospital it is not. To convince the operators of the efficiency, on all levels, of NPWT we need more clinical data. So we are working on a study that collects clinical and economic data on NPWT carried out by doctors in surgeries outside hospitals.'
On what type of wounds is NPWT being used?
'The primary objective of NPWT wound therapy is initially the preparation of the wound bed for further treatment, e.g. with hydro-active wound dressings, not wound closure. Wound conditioning is achieved through suction, which on the one hand draws together the wound edges and on the other stimulates the growth of new granulation tissue. This type of treatment is used for chronic wounds, soft tissue defects, burns, fixation of skin grafts, but also for abdominal wounds.'
How long does NPWT treatment take?
'It depends on the indication as well as the wound's size and depth. Normally it takes around 20 days. The setting of the suction level also depends on the indication. Normally suction between 80 and 120mmHg is applied. After two to three days the dressing is changed and the success of therapy, so far, is assessed.'
How do patients respond to NPWT technology?
'NPWT is certainly not a painless type of treatment. However, there are various ways to give patients some relief. Suction for instance should be set on an individual basis so that the suction is not unnecessarily high. Although there are general guidelines on NPWT the suction level, as well as the type of suction (constant or intermittent), should be individually adapted to the patient, depending on the clinical picture and indication. For additional comfort, our wound care kits are also available with Mepitel, a wound contact layer with Safetac technology. This reduces pain and the danger of traumatising the wound when changing the dressing.'
How important is the subject of pain in wound treatment?
'Above all it's the sense of responsibility among doctors and nurses that is important here. Attitudes towards a patient's pain among hospital staff – specifically among doctors compared with other staff – are bound to be very different. A doctor is more likely to focus on the clinical objective, whereas nurses are more concerned with a patient's well-being. There are also different approaches in different countries and different hospitals: In many hospitals dressings are changed either only by doctors or only by nurses. England is very advanced in this field because there are special tissue viability nurses who are experts trained in the field of pain and wound therapy. Improving the quality of pain therapy for patients has increasingly moved into the forefront over the last few years. We are therefore working on improving patient care not only through our technology but also through changes to the general conditions and framework.'
Avance™ benefits:
• High comfort because the system is extremely lightweight and quiet in operation
• The system is portable and therefore offers higher mobility
• The navigation menu is clearly laid out: option of user- or patient mode for safe system control
• It provides quick control of onscreen patient data
• Canister change (a choice between 300ml or 800ml) involves only a click of a button