MRI software for detection & diagnosis
Ideal solution for paediatric neurological and orthopaedic imaging.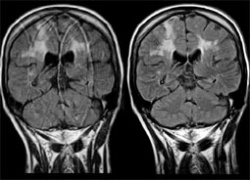 syngo Blade, is the latest total imaging matrix (TIM) technology-powered magnetic resonance imaging (MRI) software from Siemens Medical Solutions. The company reports that the system is '…ideal for paediatric and difficult-to-manage patients in neurological and orthopaedic imaging, syngo Blade is not affected by flow and motion. By continuously acquiring low-resolution images, this application measures and corrects any motion, providing clear images. With its low sensitivity to movement, medical professionals can focus on reducing sedation rates in paediatric and anxious patients, increasing time efficiency.'

This application is available on all Tim systems, including, in the Magnetom range, the Avanto, Symphony, Espree and the Trio.
More on the subject:
More on companies: