Mobile POC applications and educational resources
'Physicians and clinicians treating patients at the point of care (POC) can benefit greatly from easy access to materials and resources via their handheld devices,' comments Jamie Gramz, Director of Global Marketing at Siemens Healthcare Diagnostics.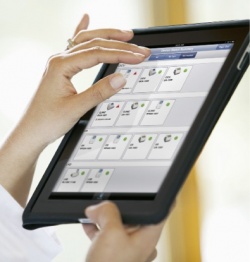 'That's why Siemens is committed to developing mobile applications and educational resources for point-of-care testing. Currently, for example, we offer the e-book, 'Rapid Analysis – Blood gases and More', a 135-page comprehensive reference manual on blood gas testing, and the 'ABG Guide' blood gas application for iPhone or iPad, which identifies normal and abnormal ranges for pH, arterial blood gas, electrolyte and analyte results. Both resources are complimentary and available from the www.siemens.com/pocresources website.
The next educational mobile resource from Siemens is a Urinalysis app that will benefit healthcare professionals performing urinalysis testing at the point of care. 'We are also incorporating the use of mobile resources into our workflow solutions for POC testing. Our latest version of software for our RAPIDComm Data Management System supports a new web application, as well as an interface to our web-based Personalised Education Plan (PEP), a virtual, single source education and management solution.
'The RAPIDComm web application allows customers to quickly view the status of POC instruments and troubleshoot issues, even from a hand held device.
'For Siemens blood-gas analysers, the updated software makes it possible to remotely view and control instruments directly from an iPad, regardless of location,' adds Jamie Gramz. 'Operator training is also simplified through the new interface to PEP, which includes a comprehensive library of educational and training materials. POC managers can also use PEP Administrator with Qualification Plans, an addition to PEP, to tailor learning plans and create and assign custom e-quizzes to integrate competency management directly with automatic recertification for operators.
'The use of mobile resources and hand-held devices will continue to play a stronger role in POC testing and Siemens is focusing on these types of solutions for our customers.'
More on the subject:
More on companies: