Congratulation
MIR SmartOne Wins ERS 2015 POINT Award
The Smart One achieved the Product of Outstanding Interest (POINT) award for diagnostic devices at the European Respiratory Society (ERS) International congress in Amsterdam, The Netherlands.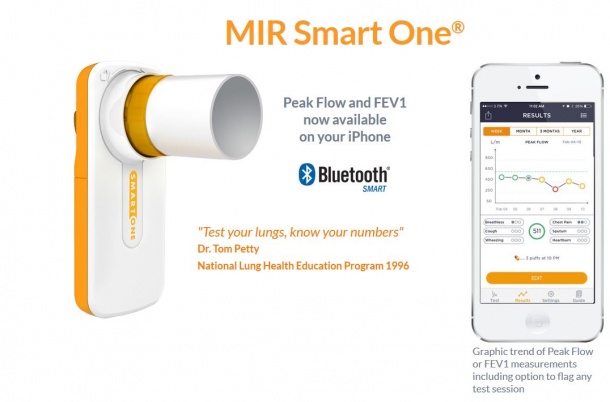 The ERS created this award to recognize the importance of innovation in respiratory medicine and to reward those whose efforts have led to such advances while exposing clinicians to new technologies and ideas. The award is aimed at encouraging new innovation and application of current ideas to help solve the challenges of modern respiratory healthcare.
For 3 years the POINT sessions have attracted great interest from both clinical members and corporate participants. Four devices have been selected from nearly 40 entrants to POINT this year.
MIR invests 16% of its annual turnover in R&D and has been always focusing its efforts on new: Devices, Software and Technology. What is extremely attractive about the last generation of MIR spirometer is their "Smart" nature.
Smart One® is a pocket-size, keyless spirometer intended for personal use. It connects via Bluetooth to the new generation of smartphones and tablets, combining wireless technology and an App to monitor their condition or treatment.
The Smart One® selection and awarding criteria were Design/style, Easy of use, Patient Confort, Innovation and Impact in Clinical Practice. Our goal is to combine medical solutions with smartphone skills of today. We are proud to have received this award from the ERS, and see it as further recognition of the added value Smart One® brings to patient care.
Read more on: www.spirometry.com
Source: MIR Medical International Research