Mindray's DC-8
Indicating the way to the next step in your examination and inserting comments automatically.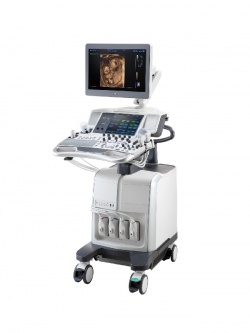 The DC-8 '…performs well across a wide range of physical examinations, from deep abdominal to superficial small parts, or from minute vessels to big muscular structures,' the manufacturer Mindray reports. Using iZoom, the 19" high-resolution LCD monitor gives a bigger clinical image area, enabling better assessment of more detailed structures, the firm adds. 3T New Transducer Technology, unique to Mindray, the company points out, increases bandwidth and transmission efficiency, thus offering better SNR and improved resolution. 'It allows you to scan with higher frequency, even focusing on in deep structures, to acquire images easier and faster of different body types, and to obtain better image clarity when scanning the most challenging patients.'iFlow provides better visualisation of tiny vessels and complex flow patterns. 'Based on our exclusive processing algorithm, the system can detect very weak colour Doppler signals with an optimal S/N ratio, and provide extraordinary spatial resolution without compromising penetration or sensitivity.'
The new platform also enables an optimum flexibility for post processing and analysis of the Raw Data image. Mindray also adds that, due to iWorks, the DC-8 can indicate the next step of an exam and automatically inserts comments, initiates the required measurements – and more. 'All this is enabled by the powerful iWorks, by which you can have standard scan protocols or you can easily customise a user-defined protocol'.
More on the subject:
More on companies: