News • Exhibition overview
Medical Taiwan 2022: An immersive experience
Holding its ground during the challenges of the pandemic, Medical Taiwan 2022 saw a 13% increase in visitors compared with last year, the organizers report.
For the international medical, health and care Expo held in Taipei, the Taiwan External Trade Development Council (TAITRA) brought Taiwan's companies together with buyers from 13 countries including Germany, Poland, Bulgaria, Korea, Singapore, Malaysia and Vietnam via a total of 66 virtual procurement meetings, expanding the overseas markets of the Taiwanese manufacturers. Many more medical device business opportunities were expected as a result.
One of the main goals of the Expo's organizers was to provide visitors with an immersive experience, helping them navigate the new normal and the new business landscape for healthcare under the pandemic. Matching this approach was the 'New Healthcare, New Lifestyle' pavilion, which was considered a highlight of the event by many visitors. Here, a total of 19 products from 14 companies were presented, including zero-contact and unmanned digital innovative solutions such as the online consultation service from MedNet, Imedtac's telemedicine service and medication dispensing cabinet, and MSI's autonomous mobile disinfection robots. A smart vital signs station with four checkpoints was another highlight, allowing visitors to check their balance, grip strength, leg strength and muscle mass, and evaluate their own muscular strength and physiological state. More than a thousand people visited the station during the show.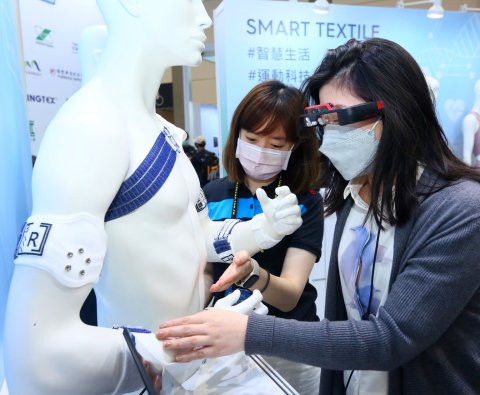 Medical Taiwan also went deep into cross-border collaboration and application of medical devices. The Taiwan Smart Textile Association, together with member companies, showcased the latest smart fabric and material solutions, wearables that can detect motion, and AI-enabled interactive rehabilitation aids. In celebration of its 75th anniversary, manufacturer CSD launched the largest-scale show in its own history at Medical Taiwan, turning its booth into a CSD museum featuring all kinds of fashionable masks co-developed with various companies. CSD also presented its new face mask brand 'COLO' that will soon enter the US market. The 'Beyond the Medtech' industry forum focused on the trends and business opportunities of the digital healthcare and smart medical industry, drawing more than 500 participants.
Medical Taiwan DigitalGo, the online version of Medical Taiwan, catered to exhibitors and buyers wishing to expand business opportunities at home and abroad. In total, more than 18,800 visitors from 45 countries including the United States, Germany, France, Japan, Korea, Singapore, Vietnam, Malaysia, the Philippines, Thailand, India, and the United Arab Emirates attended the online exhibition.
Following up on the success of Medical Taiwan 2022, the organizers look forward to the Expo's return on June 8-10 2023.
Source: TAITRA