Meaningful Innovations: Ingenuity CT and Ingenuity TF PET/CT
During RSNA, Philips announced the new Philips Ingenuity CT platform, an innovative technology that will help redefine low dose imaging. The Ingenuity CT features iDose4, Philips' next-generation iterative reconstruction technique, designed to provide equivalent diagnostic image quality at up to 80 percent less dose; improve spatial resolution by up to 35 percent with up to 50 percent less dose; or simply improve spatial resolution by up to 68 percent. This new platform is available as a standalone or hybrid imaging system via the Ingenuity CT scanner and the Ingenuity TF PET/CT system.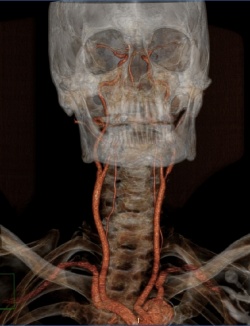 "The Ingenuity CT system maintains outstanding image quality at the absolute lowest possible dose without wasting a moment of valuable clinician time. In the past, because the combination of great image quality, low dose and fast reconstruction times has been a challenge for the industry, CT scanning has often been about trade-offs. The launch of the Philips Ingenuity CT, the next step towards fully optimizing low-dose imaging, is proof of Philips' commitment to eliminating the need to make trade-offs in patient care," said Gene Saragnese, general manager, Imaging Systems, for Philips Healthcare.

At the heart of the Ingenuity CT is a new level of clinical integration and a wide variety of applications that put the focus on the patient while enhancing economic value. iDose4, Philips' newest generation iterative reconstruction technique adds improvement in image quality and fast reconstruction times, while reducing dose.

"Healthcare is about doing the right thing for the patient both in the short and long term. CT provides incredibly valuable information but also uses radiation and requires injected contrast for certain exams," said Dianna M. E. Bardo, M.D., associate professor of Radiology and director of Cardiac Radiology, Oregon Health and Science University. "With the Ingenuity CT, we can obtain critical images while knowing we've done everything possible to protect our patients in the long term by reducing dose."

Another exclusive to the Ingenuity platform is SyncRight, a new tool designed to enhance communications between the scanner and the injector creating consistent image quality from patient to patient, up to 15 percent reduction in injected contrast per patient, providing better visualization of vascular structures, resulting in fewer repeat exams.

Clinical integration, innovation and patient focus are forces driving healthcare, however, most radiology departments are simultaneously being asked to do more with less. The Ingenuity CT platform provides the efficiency tools needed to help clinicians in the radiology, emergency and / or pediatric department to remain competitive. Tools include RapidView IR and a new, easy to use operator console that was designed to increase throughput by up to 25 percent and reducing decision points by up to 50 percent.

The Ingenuity CT also integrates the IntelliSpace Portal and extended Brilliance Workspace, across hospital information systems (HIS), radiology information systems (RIS) and picture archiving and communication systems (PACS).

New Ingenuity TF PET/CT: a revolution in hybrid imaging

Philips is a leader in delivering nuclear medicine technologies and services to clinicians around the world. Philips Ingenuity TF PET/CT is a premium hybrid imaging system to conduct studies in oncology imaging, cardiac perfusion and diagnostic CT. The system includes Time-of-Flight technology for exceptional speed and full-fidelity PET (positron emission tomography) imaging to enhance patient care.

Ingenuity TF PET/CT also improves imaging performance with the introduction of Astonish TF, the next evolution of Time-of-Flight (TOF) technology. Combined with 4-D TOF capabilities, Astonish TF shows a 50 percent improved contrast resolution while maintaining quantitative accuracy with up to four times the reconstruction speed of previous-generation systems. Additionally, the system also features iDose4 for an undivided and holistic approach to low-dose, high-quality CT imaging.

More on the subject:
More on companies: