'Like a canary in a coal mine'
With a mission to help people avoid unnecessary radiation, and the continuing launch of related products, the Swedish company is now the world's only provider of comprehensive solutions to measure, monitor and manage X-ray radiation dose, reports Brenda Marsh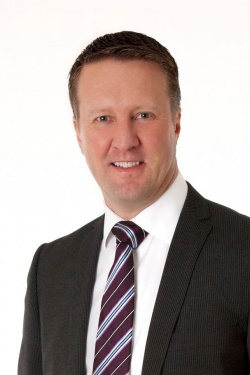 Founded 1994 by Tomas Unfors in Billdal, Sweden, Unfors Instruments began life providing measurement equipment for quality assurance of X-ray machines. However, although still a leader in that market segment, in March this year, the company was renamed Unfors RaySafe. 'We have made this change because our new brand will better represent our company moving forward,' explained its CEO Magnus Kristoferson.
In just under two decades of its existence, the Unfors RaySafe now has 150 employees. 'To enable a rapid international expansion and better serve our market, we are represented by subsidiaries in seven countries, including United States, United Kingdom, Germany, Singapore, India, Japan and China. In addition we are present in 60 further countries represented by local distributors,' the firm's CEO adds. 'Among the customers are major X-ray manufacturers as well as some of the most well-known university hospitals worldwide.'
Revenues of around €20 Million Euros were reported in the fiscal year 2011/2012
'Like the canary in the coal mine helped miners avoid dangerous gases,' Magnus Kristoferson points out, 'the RaySafe solutions, now and in the future, will enable users to help themselves and others avoid unnecessary radiation. Our philosophy of combining the simple and intuitive with the most advanced and innovative technology has made us a world-leading supplier of radiation measurement solutions in the medical field. Radiation, however, is not confined to the professional sphere. For the past 20 years, the average person's exposure has increased dramatically - a trend that is likely to continue. Therefore, we are constantly exploring new ideas and expanding our portfolio of products and services to help those we serve avoid unnecessary radiation.'
So what has the company, now with a symbolic canary in its logo, launched recently?
'Early this year we introduced a new segment to our portfolio – personal dosimetry,' Magnus Kristoferson said. 'With the real-time solution medical staff is able to see, control and influence the amount of dose they are exposed to during interventional procedures. And now, during the RSNA in Chicago, we have launched a software solution to better manage patient dose, improve process quality before, during and after X-ray procedures and to reduce a number of unnecessary exams. The key words here are justification, optimisation and control. With this introduction we can now provide a comprehensive solution to improve safety in the X-ray room – from quality assurance of X-ray equipment, to real-time dose monitoring for medical staff and dose management solutions for the benefit of the patient.'
Radiation dose warning in real-time
During ECR 2012 this spring, the company launched its real-time dose monitoring system RaySafe i2. The basic package has one real-time display and four dosimeters, which can be extended with additional dosimeters and advanced data management software.
By using the system during imaging procedures, medical personnel receive instant information on their current exposure to X-ray, giving them prerequisites to adjust their behaviour to minimise unnecessary exposure, the firm explains.
Studies presented at ECR and RSNA indicate a dose reduction among personnel up to 40% when using Unfors RaySafe's real-time dosimetry technology. Workplace efficiency and safety can be improved, and work processes streamlined, by facilitating the time-stamped, dose data collected by RaySafe i2.
'RaySafe i2 is proven to reduce staff dose, and makes it easy to work correctly and achieve a well-functioning radiation safety culture in hospitals,' Magnus Kristoferson concludes.
Dose Management
The new cloud-based software RaySafe S1 is prepared for integration in a multi-modality environment within diagnostic radiology, with equipment from different X-ray manufacturers that support the DICOM standard.
Whilst it enables medical staff to manage and lower patient dose it still retains image quality, thus reducing the number of unnecessary radiological examinations.
Additional assets: The software supplies justification support with evidence-based referral guidelines; optimises features that help find the right balance between image quality and dose -- as well as minimise often hidden retakes and rejections; helps retain workflow control; provides online with notifications, alerts, checklists and protocol guides, and on demand can supply relevant statistics and key performance indicators.
Radiology information is also collected and shared with various individuals in the diagnostic process, including referring physicians, radiologists, operators, medical physicists, Radiation Safety Officers (RSO) and medical engineers. Additionally, the system can provide managers with insight into the radiology department's usage, to support efforts to increase productivity.