Light and color: Healthcare Lighting presented by Siemens
At the RSNA 2009, the congress of the Radiological Society of North America, Siemens Healthcare presents "Healthcare Lighting", a concept for lighting design in medical facilities, aimed at creating a friendly and colorful environment instead of the common bland hospital atmosphere. Practical experience to date shows that many patients feel more comfortable and are more relaxed when the examination room or the diagnostic device is flooded with colored light and relaxing music is even played at the same time.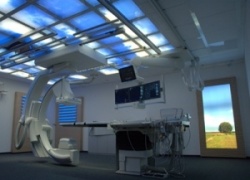 Nurses, technologists and doctors also confirmthat they find a colorful work environment much more pleasant.
Based on findings in modern psychological studies, colors and light have been used for some time in doctors' practices and hospitals to positively influence the condition of patients. With its "Healthcare Lighting" service, Siemens Healthcare supports its customers in developing and installing concepts tailored to their institution.
Typical areas of application for light installations are CT, AX and MRI examination rooms. Light tubes - operated via computer to emit different light colors - can be mounted on walls. Walls and ceilings can be attractively decorated with different motifs such as a mountain landscape and a blue sky with clouds. With a special software program, the operator can choose from the full color spectrum at will and combine different tints. A special system for the MRI room works with a large number of small LEDs (light-emitting diodes) mounted on the ceiling that light up the entire room in color.
The Center for Diagnostic Radiology at Butzbach near Frankfurt has achieved very positive
experiences with Healthcare Lighting: "Distracting patients is especially important to us in CT
scans," says Dr. Farschad Tabesch, radiologist at the Butzbach Center for Diagnostic Radiology.
"This is where we perform pain treatments using periradicular therapy [PRT] or facet blocks [FAB]. Patients come to us with a long history of pain. And then, many of them are afraid to undergo the treatment. The light installation makes a huge contribution to helping these patients relax." Economic figures in Butzbach clearly show that the investment and comprehensive patientoriented approach are well worth-while. Now, only about one percent of patients have to be sedated before undergoing an MRI scan. "I used to work at a "normal" practice, where I always had two or three sedations each day. Here, almost all of our claustrophobic patients can make it through the procedure without sedation. Before, I often experienced cases where these kinds of patients just jumped right out of the unit – something that hasn't happened here," Dr. Tabesch reports.
The distraction with colors also works well with children, who in a large number of cases require sedation. Plus, the images have fewer motion artifacts, meaning that fewer repetition sequences are needed. Thus, Healthcare Lighting helps to focus on the well-being of the patient and allows practices and clinics to set themselves apart from other providers in their sector.

More on the subject:
More on companies: