Article • Pandemic management
Lessons learned from Covid-19 by a large hospital radiology department
When the first wave of coronavirus cases struck in the United States, hospitals in New York City were the first to feel the impact. This was especially true for Montefiore Medical Center (MMC), one of the first and largest Covid-19 epicentres located in the Bronx.
Report: Cynthia E. Keen
In an article in Current Problems in Diagnostic Radiology, Professor Judy Yee, M.D., Chair of the Department of Radiology, Mark C. Liszewski, M.D., Director of Paediatric Imaging at Children's Hospital (CHAM) at Montefiore, and colleagues described the lessons they learned during the pandemic. In this article, Dr Yee and Dr Liszewski also talk about their first-hand experiences.
It became immediately necessary for the radiology department of this 1,500-bed academic medical centre to provide imaging services for Covid-19 patients, to keep the staff safe, and to prevent the spread of the virus. The radiology department also had to deal with a massive drop in overall imaging caseload: in April 2020, a decline of emergency radiology volumes by about 50% and of outpatient imaging by about 85% compared to the previous year. Workload for thoracic radiologists soared, while that of mammographers plunged.
Rearranging beds, imaging equipment, and staff
In response to this unprecedented situation, MMC proved adept at converting available spaces into hospital beds for Covid-19 patients. Intensive care capacity was increased by converting beds from paediatric ICUs, cardiac catheterisation labs, and GI suites. Paediatric wards, the paediatric emergency department, and large conference spaces all became Covid-19 wards.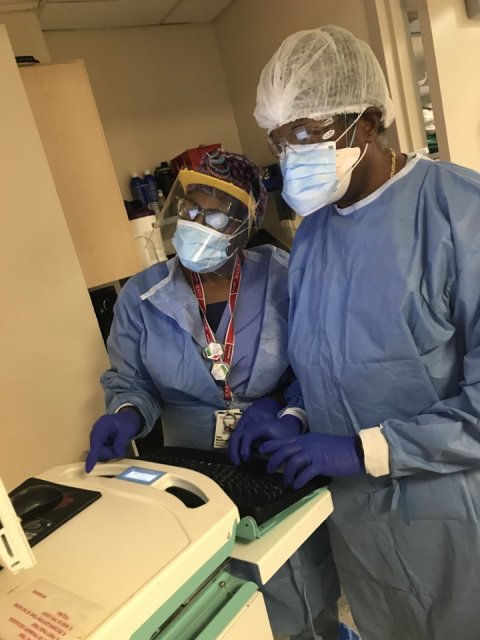 "During the pandemic, Montefiore Radiology expanded portable bedside imaging to improve infection control," said Dr Yee. "Multiple imaging equipment vendors provided portable radiography units at no cost to meet a 50% increase in chest X-ray volume, from an average of 250 portable chest radiographs before the pandemic to 380 in March and April 2020."
Most of the mammography technologists, who were also certified X-ray technologists, were reassigned to work in the inpatient units to meet this demand. Sonographers from breast imaging centres were redeployed to hospital sites. Additionally, many radiology department nurses, half of the radiology residents, and physician assistants were assigned to front line positions caring for Covid-19 patients during the initial wave in the spring of 2020. "Orientation and training of the reassigned radiology staff were managed by the specific units to which they were assigned," said Dr Liszewski. "Radiology staff became members of Covid teams and worked side by side with other clinical members."
Modifying imaging and interpretation procedures
"Given the high number of Covid-positive patients, the most effective strategy to provide imaging services for all patients was to designate specific scanners for Covid negative patients," explained Dr. Yee. "All CT and MR scan requests were triaged by radiologists to ensure that the most appropriate examination was performed. We designated specific CT and MR scanners for Covid-19 patients, which helped streamline operations, control exposure to the staff, and limited downtime required for scanner room air exchange and cleaning."
Dr Yee and Dr Liszewski both praised the work of a radiology response team of radiologists, administrators, nurses, technologists, and IT personnel, who rapidly developed and fine-tuned new infection control policies, procedures, and workflows, making modifications as the pandemic progressed through 2020 and 2021. The team also rapidly communicated new or updated policies and processes throughout MMC, an activity it continues to perform as a 'post-pandemic planning task force'.
When demand for 'routine' and elective imaging began to increase later in 2020, the radiology department scheduled Covid positive patients in blocks, most often at the end of the workday. This strategy helped maintain patient safety and maximise the efficiency of the cleaning staff. Any patient scheduled for elective imaging tests and intervention involving an aerosol generating procedure is tested for Covid-19, with elective exams deferred if a patient tests positive.
Radiologists were encouraged to focus on academic work. Academic time scheduled later in the year was shifted, enabling our radiologists the time to study the Covid surge

Judy Yee
"Montefiore radiologists primarily work in subspecialty-based reading rooms," said Dr Yee. "Before the pandemic, the reading rooms were often bustling and crowded places filled with attending radiologists, fellows, residents, medical students, and referring providers. With the pandemic and the need for social distancing, the reading rooms had to adapt and change. Some workstations were relocated from reading rooms and spread to other spaces throughout the department, including individual offices, the resident workroom, and conference rooms."
Attending radiologists and residents who needed to be on site worked in the less-crowded reading rooms and at the workstations spread throughout the department, but all other attending radiologists worked remotely on home workstations. Residents were also spread through the department and worked at the socially distant workstations. Referring providers consulted with radiologists remotely using online teleconferencing software.
Adapting education and research
Because MMC is the primary teaching hospital of the Albert Einstein College of Medicine, research and teaching are strong elements of Montefiore Radiology's mission, the experts stressed. To maintain education efforts during the pandemic, in-person medical student rotations were suspended, replaced by an online curriculum comprised of online learning materials and teleconferences given by attending radiologists. "Radiologists were encouraged to focus on academic work. Academic time scheduled later in the year was shifted, enabling our radiologists the time to study the Covid surge," said Dr. Yee. "Seminal works on the imaging findings of Covid were conducted. The department saw a significant overall increase in academic productivity."
"The policy that shifted academic time was applied to all radiologists in the department," added Dr Liszewski.
The greatest lessons learned: Be flexible, act strategically, and communicate often.
Profiles:
Judy Yee, M.D., is the University Chair of Radiology at Montefiore Medical Center and Professor of Radiology at Albert Einstein College of Medicine in New York City. Her research focuses on colorectal cancer screening and early detection using CT colonography, of which she is an international expert. She currently serves as chair of the American College of Radiology Colon Cancer Committee. Dr Yee is a founding member of the Colon Cancer Foundation Advisory Board and a member of the Global Radiology Leaders Board for Health4 The World.
Mark C. Liszewski, M.D., is Director of the Division of Paediatric Imaging at Children's Hospital at Montefiore (CHAM), Director of Outpatient Imaging for MCC, and Chair of the Montefiore Radiology Pandemic Planning Committee. He also is an Associate Professor of Radiology and Paediatrics at Albert Einstein College of Medicine. Dr Liszewski's research focuses on the radiologic diagnosis of medical conditions affecting children, with particular interests in imaging of diseases of the paediatric chest, lungs and airway, ultrasound elastography in paediatric liver disease, and novel techniques in fluoroscopy.