Leading UK hospital orders 50 NCR MediKiosks
The technology firm NCR Corporation, which specialises in automated teller machines, self-checkouts and other self- and assisted-service solutions, announced in April that King's College Hospital NHS Foundation Trust in London has chosen to install the firm's new patient automated arrival system NCR MediKiosk. This autumn, 50 MediKiosks will be deployed in the dermatology, haematology, orthopaedics, urology and general surgery clinics.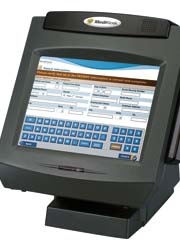 If successful, further kiosks will be installed in accident and emergency, radiology and other outpatient departments. NCR service engineers will also provide technical support on an ongoing basis.
Using the system, patients will be able to immediately inform the hospital of their arrival for an appointment as well as view and update their contact details and complete questionnaires. Receptionists will also be on hand to assist patients in using the kiosks, if needed. Messages relating to hospital visits will also be displayed on-screen and, according to the profile of the attending patients, targeted 'well being' messages will be broadcast on accompanying digital displays in the waiting room.
Currently, one in seven patients fails to turn up for a scheduled appointment at King's. Patients often receive details of their first appointment using the NHS 'Choose & Book' system or via their general practitioner (GP). Around 80% of these patients will need follow-up consultations and ensuring that they have received correspondence from the hospital is not easy. In the UK, a fifth of adults move house annually. Even if patients remember to tell their local GP surgery, currently address details cannot be easily shared within the NHS.
By consistently asking patients to check their contact details (including mobile phone number and e-address) at the kiosks, King's will help to ensure patients receive communications regarding future appointments. If need be, the NCR system will identify patients who miss appointments allowing staff to reschedule at a mutually suitable date, the firm reports.
In the next phase of the project, routine information will be relayed to patients prior to their consultation via the kiosks, e.g. reminders that they will be asked to provide a urine or blood sample, or they need to observe a 24-hour fast before a surgical procedure.
Via a simple traffic light system, receptionists at their desktop computers will be able to monitor whether consultations are in progress, about to begin, or are delayed. The system enables individuals to be seen early if slots become free and also alerts patients about anticipated delays using a real-time 'ticker' on the digital displays. It also will broadcast audio announcements to call forward the next patient for an appointment.
Following a competitive international tender, King's is NCR's first customer in Europe. At the hospital, the self-service project team will be lead by Leila Howe, Service Manager, Ophthalmology, Orthopaedics and Pain Management; Howard Lewis, ICT Project Manager, and Mark Reed, Purchasing Manager. Howard Lewis commented that the NCR had been selected due to the span and success of its self-service systems in the US healthcare market, where more than 170 NCR self-service solutions are now used. Gordon Lorimer, NCR Healthcare director, added: 'We are used to running large-scale installations, delivering crucial availability levels as near to 100% as possible.'
King's College Hospital also foresees the potential growth of the self-service solution with the possibility of using the kiosks to capture Patient-Reported Outcome Measurements (PROMs). This could be supplemented by NCR Wayfinding, a digital mapping solution that helps patients navigate their way around a hospital.
* King's College Hospital NHS Foundation Trust (www.kch.nhs.uk) is one of the UK 's largest and busiest teaching hospitals, with over 6,000 staff providing around 700,000 patient contacts a year. The Trust is recognised internationally for its work in liver disease and transplantation, neurosciences, cardiac and haemato-oncology. With its academic partner King's College London, the hospital is also renowned for the training and education of medical, nursing and dental students.