Sponsored • Update on X-Ray
Leading hospital installs new generation devices
The radiology department at the German hospital Asklepios-Klinik Lindau recently received the high-performance R/F table Sonialvision G4, a new generation of X-ray and fluoroscopy systems, which complements examination and therapy options, particularly in internal medicine, as well as general surgery and for spinal disorders, the manufacturer Shimadzu reports.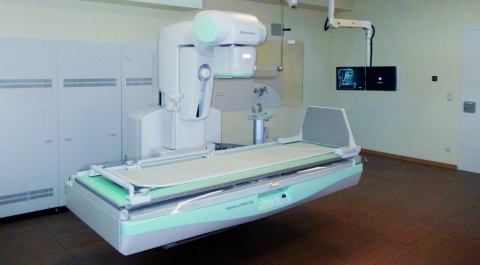 Shortening exposure and exam time – Equipped with the largest available flat panel detector measuring 43 x 43 cm, and a digital imaging platform, the universal Sonialvision G4 offers the hospital a large variety of applications across all departments. The R/F system provides high-resolution full leg and full spine images, which can be obtained from standing or lying patients. This makes it a valuable tool for clinicians, for example for digital endo-prosthesis planning.
The high operating speed of the R/F system reduces the exposure dose for patients and medical staff. Images can be viewed immediately after completion of the imaging procedure, thus shortening the examination time overall and reducing stress for the patients. The system's examination table is also designed for the increasing number of bariatric patients and takes a patient weight of up to 318 kg.
Multidisciplinary applications abound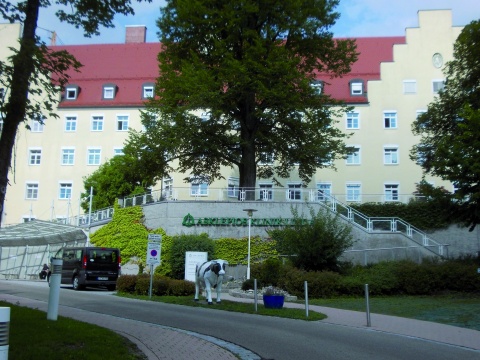 'With this ultra-modern system we can examine patients with diseases of the biliary tract or impaired pancreatic drainage gently and efficiently', explains PD Dr Heinz Linhart, Head of the Internal Medicine Department at Asklepios-Klinik Lindau. 'Typical applications are for patients with pain in the upper abdomen or colics, where there is a suspected blockage of the bile duct by gallstones. Combined with an endoscope, the biliary tract can be examined and gallstones in the bile duct can be detected and removed if necessary,' Linhart explains. The new system can also diagnose blockages of the bile duct caused by tumours.
'Examining the gastrointestinal tract using R/F technology allows not only a detailed clarification of questions ahead of a possible visceral surgery intervention, but also a review of the surgical result', adds Professor Ulrich Schöffel Medical Director and Chief Physician at the Department for General and Visceral Surgery. 'The dynamic functions of the oesophagus, the stomach and the entire intestinal tract, as well as the renal function, can be assessed reliably after administration of a contrast medium,' he adds. 'Surgically formed joints can be reviewed as easily as the success of a reflux operation on the stomach. In addition, the representation of fistulas and monitoring of their treatment is substantially simplified.'
Diagnostic range completed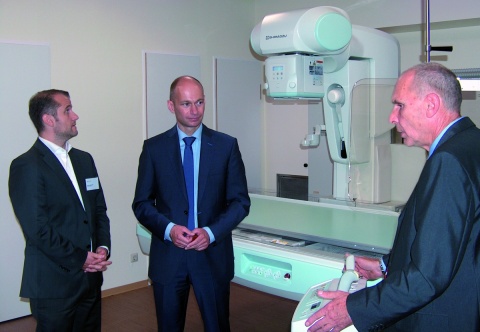 Johann Bachmeyer, the hospital's chief executive, stated: 'The diagnostic range is now complete and significantly improved by this piece of high-tech engineering.'
The manufacturer adds: 'The large longitudinal coverage of Sonialvision G4 and the flat panel detector, for example, provide a wide imaging area. In addition, the advanced 'SUREengine' (Shimadzu Ultimate Real-time Enhancement Engine) technology supports excellent image quality. It optimises the entire image for a more detailed rendering of all areas examined, including smaller and otherwise faint target objects.'
Further details: www.shimadzu-medical.eu
Meet Shimadzu Europa GmbH at ECR Expo X2. booth 325
More on the subject:
More on companies: