Labs are vital
UK initiative supports lab professionals
Labs are Vital is a global initiative managed in the United Kingdom by a steering group that includes the Royal College of Pathologists, Association of Clinical Pathologists, Association for Clinical Biochemistry, Institute of Biomedical Science, British In Vitro Diagnostics Association and Abbott Diagnostics.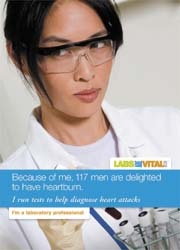 'Laboratory medicine is at the heart of patient care. It is important that we raise the profile of laboratories and highlight the quality, safe and cost effective service they deliver,' explained Dr Graham Beastall, Labs are Vital executive member and Consultant Clinical Scientist at the Glasgow Royal Infirmary.
'Many lab professionals believe – not unjustifiably – that their contribution is not recognized.'
The initiative also addresses issues that laboratory teams face today: rising costs, regulatory requirements and the trend to automation. The organisation criticises developments that relegate diagnostic medicine and supports new information strategies, such as 'Safe, Accurate & Effective: An Action Plan for Healthcare Science in NHS Scotland', which was recently launched by the Scottish Government. 'Healthcare scientists deliver a superb service throughout the UK and beyond, ensuring quality and patient safety,' Dr Beastall added. 'We are involved to see similar commitments in England, Wales and Northern Ireland.'
Another key objective is to stimulate communications between laboratory professionals. To this end, Labs are Vital is also using the internet to present information and interesting online activities for its registered members (http://www.labsarevital.co.uk).