News • Cone beam CT
Korean Olympian team benefits from OnSight 3D Extremity System
Jincheon National Training Center installed a Carestream OnSight 3D Extremity System.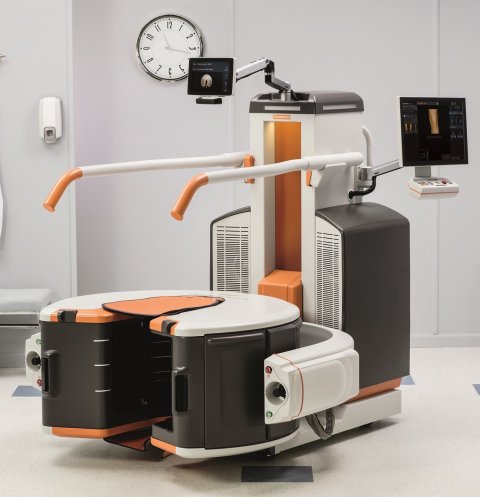 They are the most comprehensive training center for national athletes and have a total of 166,330 square meters of indoor and outdoor training facilities and support facilities capable of accommodating about 1,150 people for a total of 37 sports events including athletics, baseball, and swimming. They created an environment where national athletes can focus on exercise in the best conditions, and installed the state-of-the-art Carestream OnSight 3D Extremity System for the ultimate in sports and medical care. The system uses cone-beam computed tomography (CBCT) to capture 2D or 3D cross-sectional images of bone or soft tissue in arms, legs, hands and feet.
"The OnSight System provides the advantages of high-resolution, 3D X-ray images at a relatively low radiation dose," said Dr. Jeong-Joong Yoon in Jincheon national training center sport clinic. And Dr.Yoon continued, "We have many cases of joint and extremity injury during training. OnSight provides superb image quality of bone and even soft tissue with one scan, so enables us to do accurate diagnosis and quick treatment planning. Also OnSight captures images of leg or ankle while the patient is standing or placing some weight on the limb. This means we're able to see the nature of the injury as it appears when the patient is actually using the leg – so we get a much better idea of the injury's scope and how to treat it."
Carestream Health designed the OnSight System to provide capabilities not possible with traditional X-ray exams. In summary, these include:
Upper and lower extremity exams, with high-resolution 3D images to reveal subtle, difficult-to-detect fractures.
Weight-bearing exams, to allow viewing of lower extremities under natural load.
Greater patient comfort and convenience, with a wide door opening for easy, step-in access.
A reduced radiation dose compared to conventional CT systems.
In closing, Dr. Yoon said "We believe that OnSight improves the diagnosis and treatment of Korea Olympic training center's sport clinic to a higher level and further contributes to better athlete care and performance."
Source: Carestream Health
More on the subject:
More on companies: