News • OnSight extremity system
High-quality 3D imaging for orthopaedic surgeons
Carestream will demonstrate its CARESTREAM OnSight 3D Extremity System that uses cone beam CT (CBCT) technology to capture high-quality, low-dose 3D extremity exams at the American Society for Surgery of the Hand meeting and exhibit that starts Sept. 7.
"This system offers excellent 3D image quality and equips orthopaedic surgeons with enhanced diagnostic content for detecting subtle fractures, soft tissue injuries and other conditions of the hand, wrist and upper extremities," said Helen Titus, Carestream's Worldwide Marketing Director for Ultrasound & CT. "Fully processed images are available in about three minutes, which helps specialists make a timely diagnosis and offer treatment recommendations."
The OnSight 3D Extremity System can assist surgeons in detecting occult and non-union carpal bone fractures. These fractures are common and up to 20 percent of Scaphoid fractures cannot be detected with a 2D X-ray but show up clearly in 3D volumes produced by the OnSight system.
Unlike traditional CT systems, the CBCT system has a large-area detector that captures a 3D image of the extremity in a single rotation, which takes only 25 seconds. A patient simply places the injured extremity into a donut-shaped opening in the system. Since the patient's head and body are not confined patients do not experience the claustrophobia that often occurs with traditional CT systems.
The compact system can be installed in an exam room and plugs into a standard wall outlet.
Carestream is shipping its OnSight 3D Extremity System in the United States, Europe and other countries.
Source: Carestream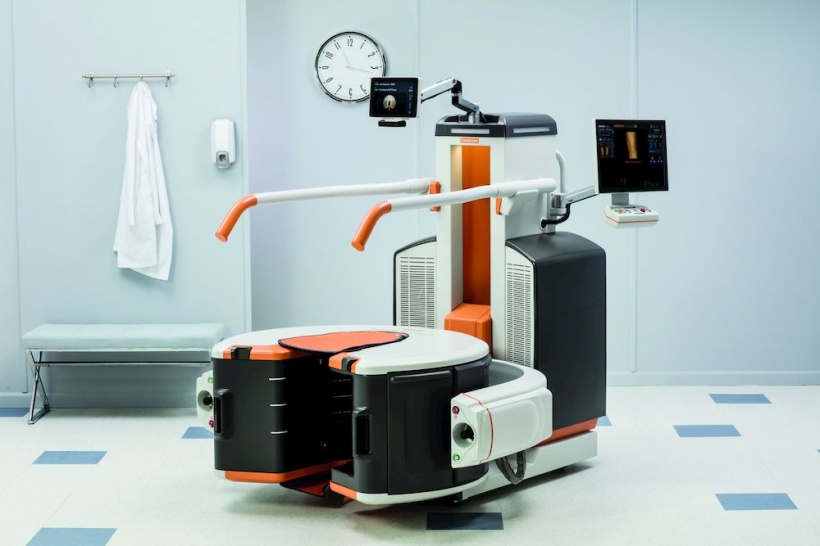 Carestream
More on the subject:
More on companies: