Digital healthcare
Konica Minolta appointed Vanguard to provide solutions in East Africa
Konica Minolta Healthcare displays its latest Medical Imaging products on the Medic East Africa Congress that's taking place in Nairobi, Kenya from 26-29th September. The East African region continues to strive for advanced and affordable medical infrastructure in order to fulfill an increasing demand for Healthcare services.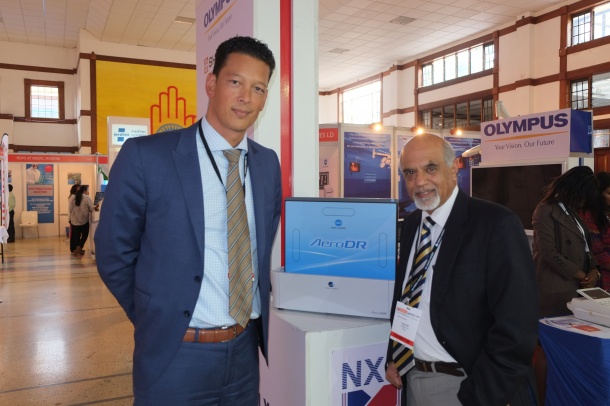 Recently, Konica Minolta appointed Vanguard Ltd. as its authorized distributor for Kenya, Uganda and Tanzania, in order to further strengthen its position in digital imaging solutions. Two of Konica Minolta's recent product introductions are of particular interest for the region: the AeroDR 2S Digital X-ray detector and the DryPro Sigma II laser printer for medical film.
"Healthcare facilities that are interested in transforming to digital often lack the budget to procure a full Digital X-ray system. With the AeroDR detector, you can easily upgrade your existing equipment into a direct digital solution without having to replace or remove your existing X-ray room. By appointing Vanguard Ltd. as our local distributor, we are now able to offer this advanced solution to the East African region" says Randolf ten Cate, Marketing Manager EMEA & GM Middle East and Africa.
Mr. Pankaj Patel, Managing Director Vanguard adds: "We are excited that, with Konica Minolta, we can add another technologically advanced brand to our existing portfolio of medical products. This will bring further synergies in our Imaging division. The Konica Minolta products are already well accepted by hospitals such as Nairobi Hospital, Moi Teaching and Referral Hospital and Armed Forces Memorial Hospital, amongst others".
Hosting more than 250 of the world's leading healthcare companies, the Medic East Africa exhibition saw an impressive turnout of healthcare and trade professionals all coming under one roof to take health to the next level.
Alongside the exhibition, 2 of the 4 CPD-accredited conferences kicked-off with leaders in the field discussing the latest trends and issues faced by in the healthcare industry. The theme of the conferences is "Healthcare For All"

Source: Konica Minolta Healthcare
More on the subject:
More on companies: