Article • Initiative
Knowledge dissemination key to defeating cancer?
Half of cancers can be avoided if institutions would exchange knowledge, according to Joxel García, executive director of the University of Texas MD Anderson Cancer Center in Houston, who opened the Center's meeting in Madrid in October 2016.
Report: Mélisande Rouger
Technology has progressed enormously and there has never been that much knowledge of cancer to prevent it and find treatment tools. 'We can prevent 50% of cancers approximately; and if we can't do that, we can at least detect them in stage 1 or 2 instead of 3 or 4,' Garcia stated in his inaugural lecture. But, he added, medicine is heterogeneous and its focus not well adjusted. 'The current clinical care model is episodic, reactionary and very expensive; it varies from country to country. We concentrate on who finds the next cure and what is going to be the next silver bullet. In 20-30 years from now I think we're going to look back and say: you guys did it wrong.'
For instance, health professionals know the cost of disease but do not have a value for a person's health. 'In population healthcare we can only talk of pathology; it's a pathology-centric process. We have to combine the knowledge of scientists to be able to identify the real diagnosis and have people like me and others find a way to prevent that cancer from happening.'
One way to do so is for healthcare providers to use models based on quality evidence-based decision support, he argued. MD Anderson's Moon Shots program is an initiative that uses a transdisciplinary approach to speed up the development of new treatments, diagnostic methods and prevention programs from scientific discoveries. The centre, which collaborates with community hospitals and health systems in the USA and has a local branch in Madrid, has 13 moon shots, each dedicated to a particular cancer area.
If the knowledge we have today was applied effectively, it would reduce cancer mortality within the next five to 10 years of initiation of a moon shot project.

Joxel García
'If the knowledge we have today was applied effectively, it would reduce cancer mortality within the next five to 10 years of initiation of a moon shot project,' García said quoting Ronald DePinho, president of MD Anderson Cancer Center. 'What he meant is that our goal is to do what currently takes eight to 10 years in three to five years.'
The centre's Moon Shots program notably inspired former US President Barack Obama, who announced a national cancer moon shot to cure cancer. On the US level the centre has managed to influence change in some states' legislation regarding minors' protection, for instance by forbidding youngsters' access to tanning beds, a known risk factor for melanoma in younger populations. This remains a significant challenge in the US, according to García. 'We have a trillion dollar system which is very ineffective; there's a huge disparity of knowledge, one of which is among physicians.'
One of the organisation's aims is to help spread knowledge to non-specialised centres through their network. The centre also cooperates with the WHO on prevention and control, and provides community based services and teleconsulting in nutrition, exercise, smoking, prevention, UV protection and vaccination at various sites across the world.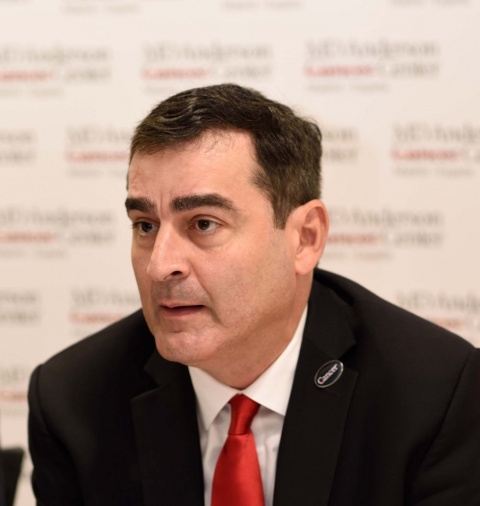 One of the main issues in cancer research is knowledge dissemination. 'There's a lot of knowledge in a lot of pockets, but they do not exchange intelligence between them. Why don't we share data and information?' he suggested. A step in that direction, and a currently highly discussed idea in population health, is to open clinical trials not only to people who can meet the criteria, but also to people who might have other diseases. Typically a medication approved by the FDA to go to a clinical trial comes out successfully in only two to three percent of patients who actually qualified for that trial, Garcia pointed out. 'As soon as the drug goes into the market it has actually never been tested in people with asthma, diabetes or other chronic diseases. And then the drug fails and comes out of the market, and you've lost a billion dollars in research and 20 years of work.'
MD Anderson also plans to narrow the gap between providers to increase the number of available phenotypes. The centre's US network tries to identify locations that have other genomic pools to identify more mutations and see how those are affected in terms of phenotypes per se. Additionally, the institution is working to create a digital platform for second opinion pathologists, because those specialists are cruelly lacking in many areas, including Africa, Asia, parts of Latin America and Eastern Europe, and the USA. 'Several years ago we had areas in Connecticut where the diagnosis would come from a general surgeon. Endometriosis was diagnosed as ovarian carcinoma and a patient would have had three to four different chemotherapies, she was cured after six months… but she never had cancer. This should not happen in a community.'
Having predictive models comprising people's genotypes and identifying which factors can amplify cancer risk, such as living area, are the future of medicine, not only in cancer but also chronic diseases, García believes. Screening services will have to adapt to the needs of a particular person, unlike the 'utopic idea that people should have mammograms at this age, or a PSA test at this time. A lot of biomarkers will help and change the way we practice medicine,' he believes. However policy makers must back up institutions so that communities can have more access to up-to-date healthcare.
Profile
A former four-star admiral in the USA's Public Health Service Commissioned Corps and US assistant secretary for health in that service, since 2013 Dr Joxel García has been Executive Director of the MD Anderson Cancer Control and Prevention Platform in Houston, Texas, USA. He is also a member of the leadership team of the MD Anderson Moon Shots program. Prior to these endeavours, he served as president and dean at the Ponce School of Medicine and Health Sciences in Puerto Rico.