Video • Cooling vests
Keeping a cool head for all ICU doctors and nurses
Hundreds of ICU doctors and nurses are currently fighting for the lives of others. The protective gear they are asked to wear is sealed and heavy, which can cause overheating.
Especially for these doctors and nurses, the NOC*NSF has provided hundreds of cooling vests which would have otherwise been used by our athletes at the Olympics. Inuteq, the manufacturers of these cooling vests, is currently in the beginning phases in their plight to supply all healthcare providers with such a cooling vest. A lot of extra energy is required to deliver a top performance in extremely hot conditions, and thus, heat stress is very common in the sports world. If an athlete shows heat stress symptoms, he/she has to stop immediately and seek cooling/medical attention. As of now, this is often impossible for a doctor or nurse, because the pressure at the ICUs are very high. To prevent such overheating, top athletes use special cooling vests, so why not the healthcare force?
Olympic Athlete's cooling vests
Healthcare workers wear an abundance of special protective gear. "As you can imagine, one gets very hot in all that extra protective clothing. These healthcare professionals can also use our cooling vest, just like a top athlete", says Kamiel Maase, performance manager Innovation TeamNL. For this reason, Dutch Olympic Federation NOC*NSF recently made hundreds of cooling vests which will be available for the healthcare sector in the Netherlands. These special cooling vests would have actually been used by the Dutch athletes during the Olympic Games in Tokyo.
Comfortable endurance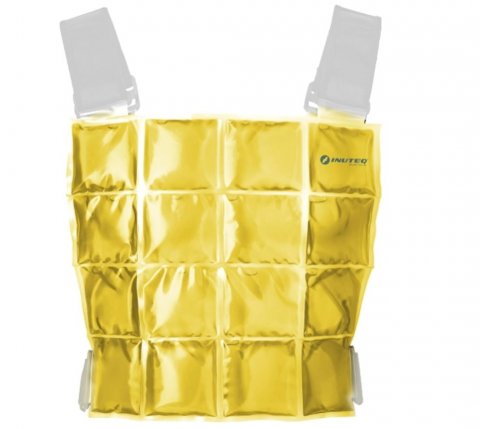 In a number of hospitals, cooling vests are now used extensively by healthcare personnel. The Radboudumc have conducted additional tests with the product. Dr. Thijs Eijsvogels, physiologist at Radboudumc explains: "Doctors and nurses at the ICU, who are treating Corona patients, can work comfortably for up to three hours longer thanks to our cooling vest. The cooling vests ensure a stable body temperature, less sweating, maintenance of concentration and a faster recovery after each intensive work session."
For all healthcare providers in the Netherlands
As stated above, the Dutch company Inuteq makes these special cooling vests. "Our goal is that all hospitals in the Netherlands get access to our product. We want to work together to ensure that our healthcare providers can continue performing in these extreme circumstances", explains Eric Pellis, one of Inuteq's owners. The company has a lot of experience in the realm of cooling clothes, and has a long history of collaboration with sports coaches, physicians and doctors to develop the right cooling attire.
In order to ensure that all healthcare providers can work comfortably with our cooling vests, Inuteq offers their product for a much reduced price until further notice. More information can be found on the Inuteq website – www.inuteq.com
Source: Inuteq