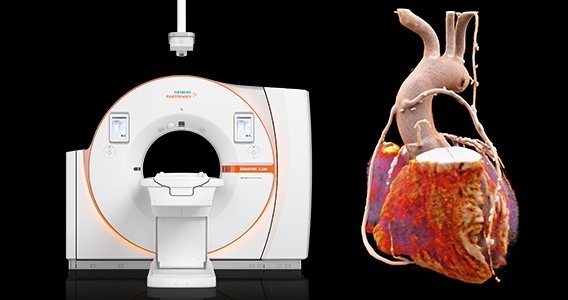 Image courtesy of University Hospital Erlangen, Erlangen, Germany
Sponsored • Siemens Healthineers at RSNA 2019
Join us as we enter the era of intelligent CT imaging
Curious about how intelligent imaging can work with you in CT? Then join us at this year's RSNA, North Hall, Booth #7530, where you can experience our new Somatom X.cite and myExam Companion.
The number and complexity of radiological procedures are increasing. Demands on staff are reaching unsustainable levels. Too often, the potential of advanced CT systems remains untapped. This calls for new solutions: intelligent navigation, patient-friendly design, personalized imaging, consistent standards.
Evolving CT imaging
Our single source CT scanner Somatom X.cite offers all of this and more. Together with myExam Companion, it will transform the way users operate their system. Welcome to the era of intelligent imaging.
Optimal support for you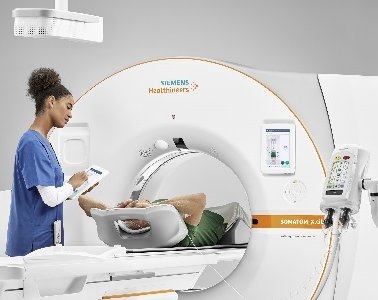 Users of any skill level can unlock the system's groundbreaking potential: myExam Companion guides users intuitively through any procedure and adjusts key parameters to individual patients. It asks users the right questions at the right time, and harnesses the new possibilities of digitalization to turn data into built-in expertise. For technologists, it makes interacting with patients and the system easier and more natural. For radiologists, it reduces unwarranted variations and generates consistent, comprehensive results.
Ideal conditions for your patients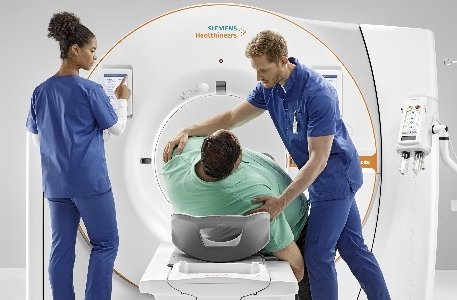 Somatom X.cite is designed to improve the patient experience. Its patient-friendly features include a large 82-cm bore that helps patients relax, is ideal for obese patients, and offers space for trauma, orthopedic, and interventional procedures. The color-coded breath-hold countdown provides additional visual guidance, which is especially helpful for patients with hearing impairments. The gantry-integrated 2D camera allows staff to monitor patients – most importantly, when they are inside the gantry. And the tablet-based mobile workflow maximizes the time technologists can spend at the tableside.
Powerful, personalized imaging
Somatom X.cite is also equipped with impressive technology inside. The Vectron X-ray tube delivers high power and resolution – which means the system is uniquely able to improve personalization, no matter how challenging the patient or throughput. Exclusive GO technologies help increase patient throughput with a more streamlined workflow. And our vendor-neutral, multi-organ augmented reading solutions automatically prepare the clinical input and put findings into a diagnostic context.
Visit us at RSNA 2019, North Hall, Booth #7530, to discover how intelligent imaging can work with you in CT.
Experience our new Somatom X.cite and myExam Companion.
For more information on Somatom X.cite and myExam, please click here.
More on the subject:
More on companies: