MEDICA 2015
JADAK to introduce chart recorder and thermal printer
JADAK will launch the XE-80P, a portable, battery-powered thermal printer and chart recorder, at Medica, in Düsseldorf, Germany, Nov. 16-19, in Hall 13, Suite Room 8. The XE-80P's unique Charge-on-Demand™ feature allows the user to choose when the printer will charge, which reserves all power for the host device's functions during a critical event. The XE-80P is the first printer JADAK will launch for original equipment manufacturers (OEMs) since General Scanning Printer Technologies became part of JADAK in June 2015.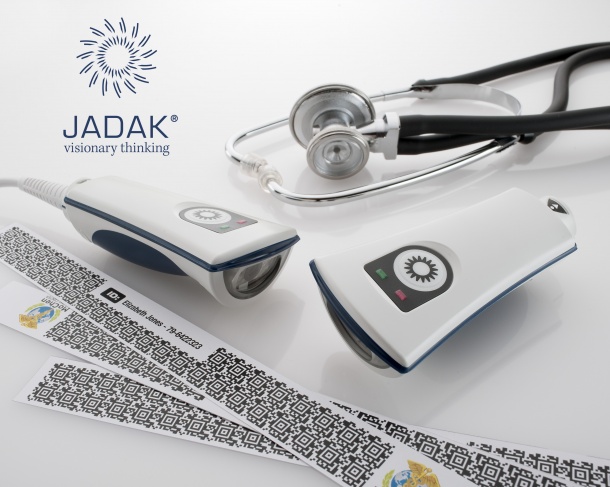 "We are excited to continue to grow the JADAK portfolio with the addition of the XE-80P chart recorder and thermal printer," said David Miller, president of JADAK. "JADAK is known as a leader for best-in-class data collection platforms and service solutions with world-class engineering resources. Now we can put those same resources behind developing chart recorders and thermal printers with advanced features, such as the Charge-on-Demand technology, and provide OEMs with technologies that help the health care industry improve overall care."
The compact, durable XE-80P is the only chart recorder and thermal printer to require a single USB cable for charging and communicating with other devices, compared to a two-part cable and adapter. The unit, which requires minimal power to operate, is outfitted with a long-lasting battery that will generally outlast the host device. Optional Bluetooth connectivity is available. The XE-80P supports 80mm paper and provides the options and security that OEMs demand in a chart recorder. It is suitable for use as a portable printing solution in the emergency medical field, or in hospital and laboratory installations, seamlessly transitioning to printing patient information, graphics, waveforms and linear (1-D) and matrix (2-D) bar codes.
JADAK will showcase six additional technologies in Hall 13, Suite Room 8, that are designed to help OEMs solve health care scanning, inspection, tracking and photonics challenges. Like all JADAK offerings, the solutions can be optimized to meet specific customer needs and requirements.
HS-2R Bluetooth HF RFID Reader
The dual-function HS-2R is the world's first cordless Bluetooth RFID reader and 1-D and 2-D bar code scanner designed specifically for health care. It is built with flexibility to help today's medical technicians improve workflows and easily adapt as the use of RFID technology continues to expand for reagent tracking, anti-counterfeiting and other real-time traceability measures. The HS-2R reads and writes to high-frequency (HF) RFID tags (13.56 megahertz), supporting a wide range of HF standards. It uses area-imaging technology to read all popular 1-D and 2-D bar codes and improves scan performance on damaged bar codes. The HS-2R's highly durable design protects the device in demanding medical applications. It is ideal for point of care, blood tracking, drug inventory, reagent scanning, surgical part tracking and more.
Clarity Machine Vision Software
Leveraging 15 years of JADAK's medical machine vision experience in the health care field, Clarity Machine Vision software is an engineering development tool that provides an easy-to-use interface for developing machine vision applications. Unlike other development tools that require a separate PC to be part of the final machine vision solution, Clarity machine vision logic can be downloaded directly to all of JADAK's fixed-mount and handheld camera-based products. Running Clarity directly within the product eliminates the need for a PC embedded in a medical device, saving premium space and reducing the device's overall footprint.
FM-5Z Fixed-Mount Bar Code Scanner
Unlike other high-speed linear bar code scanners that use lasers or charge-coupled devices, the FM-5Z Fixed-Mount Bar Code Scanner uses area-imaging technology for accurate, high-speed 1D bar code reading with motion tolerance up to 584 centimeters (230 inches) per second for carousel and manual rack-feed applications. The area-imaging technology also enables 2D bar code reading and optional image analysis capabilities using Clarity Machine Vision software. Made of solid-state electronics, the FM-5Z is free of moving parts that can break, come out of alignment or wear, which suits the FM-5Z for OEM devices, such as clinical analyzers, life science equipment, robotic systems and kiosks.
JE-231V Megapixel Smart Camera
The JE-231V Megapixel Smart Camera uses high-resolution imaging to perform image analysis and data collection functions in difficult situations, including object counting, shape analysis, item measurement and mechanical alignment measurement. All image functions are performed on the camera, eliminating the need to ship images to a host, ultimately improving machine vision workflow and reducing interface boxes and cables. The camera has the ability to scan 1-D and 2-D bar codes and is capable of optical character recognition. The JE-231V is well-suited for the life sciences industry and is ideal for microtiter plate imaging and reading, slide imaging and processing, and test tube processing, including bar code reading, tube shape identification, liquid level detection and more.
JS-1200 Spectro-Module
The ultra-compact JS-1200 is an embedded spectral measurement module for applications requiring high-optical resolution and fast spectral response. It is optimized for integration within medical diagnostic equipment performing analysis ranging from in-vitro bio fluid assays to in-vivo cancer detection. Engineered with ease of integration in mind, the unit features a built-in linear charge-coupled device sensor and a convertible eight-to-16 pin external interface for simple assimilation in a variety of spectral devices. The design of the optical engine and bench ensures stability for movement-free measurements.

Source: JADAK
More on the subject:
More on companies: