It's like switching from black and white to colour TV
Study suggests a new method to measure breast density can help determine cancer risk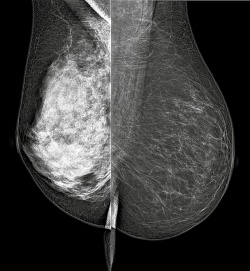 Breast density is a key risk factor for breast cancer. Accurate measurement may be made possible by a new approach to mammography, according to early research presented at the 54th Annual Meeting of the American Association of Physicists in Medicine (AAPM). That new method, spectral mammography, could also reduce the radiation dose of mammography by up to half, said Sabee Molloi PhD, professor and vice chairman of research for the department of radiological sciences, University of California at Irvine.
Dr Huanjun Ding, who is a member of his research group, presented results of a feasibility study last July in Charlotte, N.C. The denser a woman's breasts, the higher her risk is for breast cancer. Less dense breasts are fattier, while denser breasts have more connective tissue. Denser breasts are more difficult to read on a mammogram because tumours are harder to see; standard mammography therefore is not suitable for precise measurement of breast density.

Spectral mammography provides precise measurement of breast density.
The group, led by Prof. Molloi, Dr Ding, and Dr Justin Ducote, used a photon-counting spectral mammography system and applied both computer simulations and physical phantom studies. They imaged four models of breasts, which represented various configurations including thickness and density. The results suggest that spectral mammography could measure volumetric breast density in a screening exam with an error rate of less than two percent. This could help identify women at higher risk of breast cancer incidence at an earlier time in the screening process. The researchers now plan to conduct pilot studies of women as part of regular screening programmes. 'Spectral mammography vs. standard mammography is like comparing colour television to black and white TV,' summarised the expert.
'Although the object represented is the same, the colour image has more information inside. Spectral mammography allows the image to be viewed at two different energy levels, instead of just one, helping quantify the density of a woman's breasts and, in turn, her relative risk.' There are no significant drawbacks to this approach, Prof. Molloi emphasised. Radiologists will not need to adapt their workflows to apply this technique. The vendor underlined as offering suitable devices is Philips. According to the researchers, dose exposure is cut by up to half in comparison with standard mammography.

The method may evolve into the standard of care
If further validated and approved, spectral mammography could become the standard of care for breast cancer screening. It could help define a woman's appropriate mammography frequency and any need for further testing. A woman with denser breasts might benefit from having regular screening mammograms more frequently, or at a younger age. Women with extremely dense breasts, a family history of cancer, and genetic predisposition to the disease might benefit from having a more sensitive test such as MRI.

PROFILE
Sabee Molloi PhD is Professor of Radiology, Medicine (Cardiology), Biomedical Engineering and Electrical Engineering and Computer Sciences, and Vice Chairman of Research, at the Department of Radiological Sciences, University of California at Irvine. His research focus is on medical X-ray imaging.