Innovative technology for automated lymph node analysis
Lymph nodes play a critical role in the assessment of the spread of cancer, but identifying lymph nodes in surrounding tissue is a difficult task for most image analysis technology. German medical imaging company Definiens now introduced at RSNA 2008 its first computer-aided detection (CAD) application, Lymph Expert, that allows radiologists to identify and analyse lymph nodes volumetrically and compare them over time.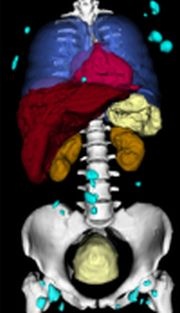 The semi-automated application Lymph Expert was first presented on Sunday at this year's RSNA meeting in Chicago, USA. It is built upon Definiens proprietary object-recognition algorithms, allowing lymph nodes to be analyzed in context. Definiens believes utilizing LymphExpert will enable radiologists to accurately track lymph nodes of interest and detect the metastatic spread of cancer earlier. "Identifying lymph nodes, which often blend into surrounding tissue, is a challenging undertaking," said Frank-P. Klein, Vice President, Medical Imaging at Definiens. "But we are keen to apply our technology to the most difficult tasks facing medical imaging professionals. This technology has the potential to streamline oncology diagnostics."
Unlike most competing technologies, which are pixel-based, Definiens Cognition Network Technology® is context-based. It examines objects in relation to one another and emulates human cognitive processes to extract intelligence from images. Definiens LymphExpert™ is built on this unique technology and is the first medical imaging application released by Definiens. Designed to support radiologists' analysis of lymph node volume over time, it will also enable them to analyze standard parameters required by RECIST and WHO in a consistent, fast and reproducible manner.
Definiens' entrance into the medical imaging arena has been met with excitement by researchers and clinicians. Peter Herzog, MD, a member of the Clinical Radiology Department at the University Hospital of Munich, praised Definiens' technology, saying, "Definiens' ability to not only measure the size of lymph nodes, but also monitor their growth and development will have profound implications for the oncology community."
The application will be released in Europe in Q1 2009, and later in the United States, pending FDA approval.